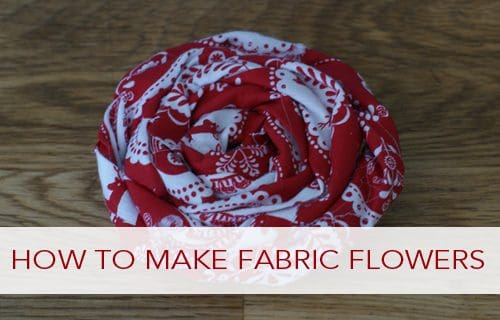 I've seen so many fabric flower projects but never taken the time to make my own until recently. My mom and I made these fabric flowers to go on this year's Christmas wreath (post coming soon!), and they are surprisingly easy to make.
Use fabric flowers on wreaths, in place of bows on gifts, or on headbands and barrettes for the special little (or big!) girls in your life. I've also seen them attached to pins, bracelets, and necklaces. How would you use fabric flowers?

Supplies:
Directions:
Start by cutting fabric strips 2-3" wide and  1.5-3' long. The width determines how chunky or tall your flower is, and the length determines the overall size or width of the flower.
Add hot glue to the strip. Then, fold the strip in half, the wrong side together, and press down to secure.
Carefully begin rolling the fabric strip at one end. Secure it with hot glue.
Continue rolling and twisting the fabric as you go. Use hot glue to secure it in place.
Voila! It really is that easy!
Related Projects:
Join us as we celebrate 101 Days of Christmas with new DIY projects, gift ideas, traditions, and more every day from now through Christmas!