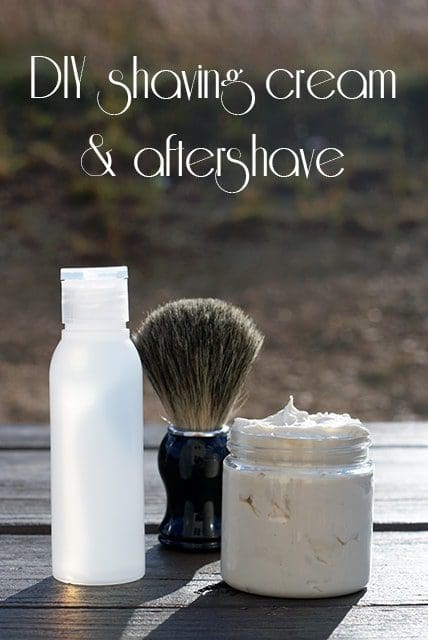 Create a shaving kit for the men in your life with this DIY shaving cream and aftershave! Actually, who am I kidding? DIY shaving cream and this refreshing aftershave would make a great gift for a woman too!
Scent both products with classic Christmas scents like peppermint. Choose something fresh like vanilla and orange, or mix in some pine, fir, or cedarwood for a manly man scent.
DIY Shaving Cream
Ingredients:
1/3 cup shea butter
1/3 cup coconut oil
1/8 cup olive oil
30 drops of essential oils
Directions:
In a small saucepan, combine the first three ingredients and heat over low until melted, stirring often. (If you're easily distracted in the kitchen — ahem! — combine them in a double boiler instead, as you'll have less chance of overheating the mixture).
Remove from heat and add the essential oils of your choice.
Set aside to cool.
Once the mixture has completely hardened, whip it with a hand mixer or an immersion blender to make it smooth and creamy.
Transfer to a jar or container with a tight lid.
To use: Spread on the skin and shave as usual. Rinse with warm water.
DIY Aftershave
Ingredients:
1-1/2 ounces of distilled water
1-1/2 ounces witch hazel
1 teaspoon vegetable glycerin
3-5 drops of vitamin E (optional, as a preservative)
12 drops of essential oils
Directions:
Combine all ingredients in a spray or squirt bottle (3 ounces or larger) and shake vigorously to mix.
To use: Spray directly onto your skin after you've shaved or squirt into your hands and then pat on your skin.
Projects from the archives:
Join us as we celebrate 101 Days of Christmas with new DIY projects, gift ideas, traditions and more every day from now through Christmas!