As I've been sharing my newly discovered passion for doodling and hand lettering on social media, I've gotten a lot of questions from other people who want to learn more as well. I spent some time digging into my new books and supplies this weekend and thought I'd share a few more thoughts about each for anyone interested in these art forms.
One of the best parts of this journey for me has been that whenever I pick up my supplies, the girls flock to my side to join me. They spend half their day creating anyway, so it's not like they need me to model creativity for them, but there is something really sweet about sharing something so simple and developing our skills together.
I also feel creative for the first time in my life. It's so much fun to watch a doodle come together and to realize that even when I don't like the way a new drawing starts, most of the time I just need to keep tweaking and adding things to get a final product that I love.
Doodling

I don't mean to be such a fangirl, but this really is the book that started it all. I just happened to stumble across Stephanie Corfee's blog a few months ago, and the girls and I immediately signed up for the A Year of Doodles course. When I saw her list of books, I knew I wanted to get this one, and I enjoyed the exercises and prompts so much. Stephanie also includes some basic lettering prompts, which made me feel like lettering might be something I could do (I've dismissed it far beyond my skill level many times in the past).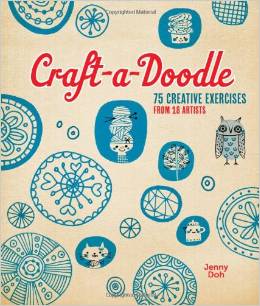 I had to laugh while writing this post because I noticed that this book has quite a few low ratings from people who say it's too juvenile, but I like these prompts and exercises as well. They're fun and whimsical, which is definitely the style of doodling I'm drawn to, and I love that the book shows the step-by-step process for each exercise.

Lettering
Like the Craft-a-Doodle book above, this book was compiled by Jenny Doh, and featuring the work of many different artists. Each artist gives examples of their style as well as several step-by-step projects. The book itself feels somewhat unpolished to me with so many different voices, but there are a lot of really fun lettering ideas and a ton of ideas to use as a jumping-off point. It makes lettering feel very accessible.
This book claims to be the perfect ledger for beginners and experts alike, but in all honesty, it's a bit advanced. I love the illustrations of various lettering terms, and Mary Kate McDevitt walks you through the different styles of fonts very clearly. Still, there's no step-by-step process for drawing the exact letters, and for someone who is intimidated by lettering, it feels a bit overwhelming. That said, the content really only makes up 1/3 of the book, with a ledger filling up the rest. With every type of paper imaginable (lined, Grapher, dotted, etc.), I'm looking forward to using this one as my hand-lettering ledger to see how I progress.
I mentioned a couple of weeks ago that I don't really love this book, which is more art journaling (with lots of layers and colors) than just lettering. I'm not a huge fan of the art journaling style (black-and-white and straight lines is more my style!), and I just realized last weekend that this was expensive enough at $19 to justify media mail postage to return it, so I'll be doing that this week.
I was hopeful that this book would be a great source of inspiration for hand lettering. Still, it's more about precise styles like already established fonts—for use in advertising and other mock-ups—rather than the somewhat imperfect hand lettering style that I enjoy. I'm going to send this one back as well and try Zenspirations: Letters & Patterning instead.

Supplies
I looked at sketchbooks forever, trying to decide on the best one to get before settling on this one. I like that it's half-sheet size because working on an 8.5″x11″ sheet of paper can feel overwhelming to me. The paper is thick enough that my Sakura pens and various markers don't bleed through. And carrying it makes me feel like a real artist. (Ha!)

I had originally gotten these pencils for the girls because of the constant pencil sharpening and tip breaking in our house. Still, it wasn't long before I packed them away because they were either tapping them incessantly (causing the leads to feed out and break), losing them or even breaking off the ends (seriously?!). However, I love having a pencil that is always sharp, and I enjoy using these for my doodle sketches, especially for lettering, where I'm not as confident or skilled.
I haven't tried any other brand of these pens, but I really love these pens so much. They're high quality, and feel good in my hand and on paper, and I'm learning about the tip sizes that I prefer for different tasks.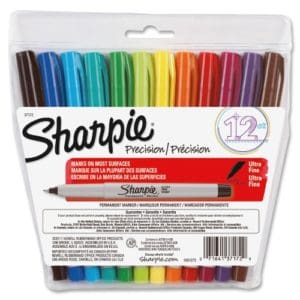 Any good office supplies geek knows that Sharpies are a staple supply, and I also love these as part of my art supplies. The colors are vibrant, and the precision tip really does offer precision. However, these should only be used on heavier-weight paper because they will bleed through.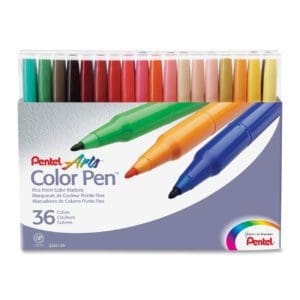 These pens—also known as markers in layman's terms—offer a variety of great colors, but they're not my favorite. The tip isn't as precise as I'd like for smaller doodles, and I'm often disappointed to realize that the color doesn't match the barrel of the marker. They are, however, the girls' favorite.
***
Notably missing from this list are watercolors, paints, nib pens, colored pencils, etc. I might venture into those areas at some point, but for now, this is plenty for me to explore and learn.
Do you enjoy doodling or hand-lettering? What are your must-have tools or inspiration sources?