The following post is from Shaina of Food for My Family and Olmanson Photography: Easy Lemon Pancakes from Scratch
The spring weekend. Unlike the winter weekend, where the warmth of my bed seems far more appealing than facing the frigid air that lies just beyond the covers, the spring weekend, with its sunshine streaming through the window, beckons full of possibilities. There are gardens to tend, walks to walk, bikes to ride, and somehow, the simple fact that I can walk outside without bundling every bit of skin makes me wake early, ready to conquer the day.
Day conquering, as it turns out, starts with pancakes. I used to be turned off by "from scratch" pancakes, never really finding a simple recipe that I could rely on without stocking the fridge long in advance. This one, however, is basic. The only added zing is a lemon, and I won't judge you if you omit the zest and use lemon juice from a bottle (the acid is necessary, so don't take it out completely) or if you use that wrinkled lemon sitting in the bottom of the fruit drawer in the refrigerator. In fact, I don't even put maple syrup on these most days, preferring a bit of butter and a sprinkle of sugar instead. Bonus points if you have rhubarb and top it off with some fresh from the garden.
These light and fluffy lemon pancakes come together and cook up quickly, and they disappear even faster, leaving a whole weekend playground of possibility ready for you to conquer.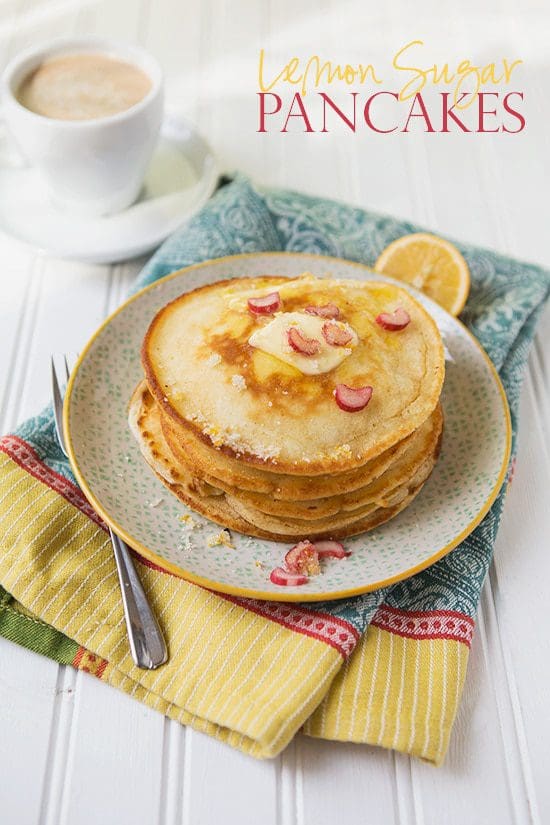 Easy Lemon Pancakes from Scratch
Ingredients
1 lemon, zested and juiced
3 tablespoons granulated sugar
2 cups all-purpose flour
2 teaspoons baking powder
¼ teaspoon salt
2 cups milk
1 egg
Directions
In a small bowl using your fingers, rub the lemon zest into the sugar until it is fragrant. Add the sugar, flour, baking powder, and salt to a medium bowl and whisk to combine.
In a separate bowl or a large measuring cup, whisk together the milk, egg, and the lemon juice. Pour the milk mixture into the flour and stir just until combined. The batter should remain lumpy.
Heat a griddle to medium. Add a small bit of butter or oil to the hot griddle. Pour pancake batter onto the griddle, about 1 cup at a time, leaving room between the pancakes.
Cook for 3-5 minutes, until bubbles appear all across the top of the pancake. Flip and continue cooking another 1-2 minutes until golden brown and cooked through.
Remove pancakes to a plate and repeat until all batter is used. Serve warm.
Notes
Suggested topping:
Rub the thinly sliced rhubarb and 1 tablespoon of lemon zest in 2 tablespoons granulated sugar to release aromatics and infuse the sugar. Sprinkle over warm pancakes with additional butter, if desired. Serve immediately.
Do you have a favorite weekend breakfast?
Shaina Olmanson is the freelance writer, photographer, and home cook behind Food for My Family. Cooking daily with and for her four kids and husband, Ole, drives her desire to inspire other families to do the same. Shaina is also the author of Desserts in Jars and regularly contributes to various online sites and traditional print magazines.