The following post is from Angie of Many Little Blessings: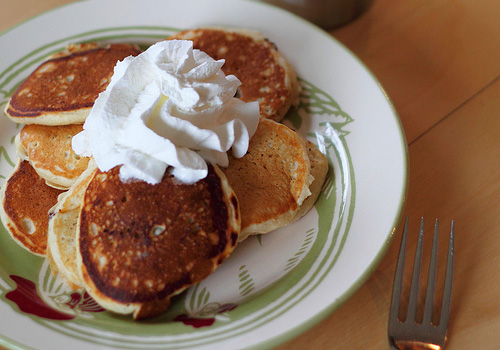 One of my favorite things when I was teaching were the years that I spent as a school librarian. Not only did I enjoy being able to order books and read to students, but I loved being able to pick books and then do related activities. This is a fabulous way to elongate the fun of a book, as well as to learn new things and have hands on experiences.
One book that we really enjoy for not only it's funny, repetitive nature, but also it's lovely illustrations is If You Give a Pig a Pancake by Laura Numeroff and illustrated by Felicia Bond. Whether this book is new to you or an old favorite, here are some follow up activities to do with children after sharing If You Give a Pig a Pancake with them.
Activities for the Book If You Give a Pig a Pancake:
Make Pancakes
This may be a no brainer, but it's fun for the kids and can make a perfect meal one day.  If you have very young children, it may be enough to just use a box mix where you just add water. Another option with elementary-aged children, however, would be to work on making pancakes from scratch.
Another pancake activity can be to have them work on helping you to pour out the pancake batter into shapes or letters.
Maple Syrup Taste Testing
As soon as Pig asks for pancakes, she knows that she must have some maple syrup with them, which the girl in the story obliges by giving her some of her "favorite maple syrup." This is a great opportunity to learn about the different grades of maple syrup and do a taste test of the different types.  Which kind does everyone in your family like best? You could also include different types of syrup from the grocery store that are not real maple syrup.
Maple Syrup Field Trip
Depending on the time of year and the area where you live, watching a maple tree be tapped for syrup and the process that follows is a surprising and educational experience. We did this several years ago, and my kids still talk about the process. They also had a great appreciation for real maple syrup versus the high fructose corn syrup laden syrups in the store.
Field Trip to a Farm
At one point in the story, upon getting a rubber duck for her bath, Pig become homesick for the farm she where she used to live. A farm field trip would be a perfect tie in to this story. It would be especially perfect if you could visit a farm that had piglets, since you could then have your children compare how piglets look in real life versus the illustrations in the book.
Beyond being a tie in to the book, a farm field trip almost always provides a myriad of learning opportunities and hands on experiences that are not to be missed.
Send Family and Friends Pictures and Letters
After Pig sees the pictures that the girl has done of her, she insists that she needs envelopes and stamps to she can send the pictures to each of her friends. Like Pig, your family can work on letters with pictures to friends and family. They might even want to tell the recipient about the book they just read.
Popsicle Stick House
Pig is quite the architect, making an impressive treehouse in the girl's backyard after seeing the perfect tree for the tree house. You can work on your architecture skills with your child with something like popsicle sticks to try to match the look of the tree house in the book or opt for wooden blocks, LEGO bricks, or some other building material of your choice.
Pig Art Project
With pigs being pink, it's a great opportunity to talk about color mixing using the color white.  This pig finger painting project will help you teach about mixing with white, as well as how to use simple shapes to make a cute little pig of your own.
Make Their Own "If You Give a…" Story
The repetitive nature of this story makes it a perfect candidate for copying the format and having your child make their own story. Prior to doing this, you might want to also read them other books by Numeroff such as If You Give a Mouse a Cookie, If You Give a Moose a Muffin, and If You Take a Mouse to the Movies.
Depending on the age of your children, you can either gently guide them through their book, let them do it independently, or complete it with quite a bit of help from you. One hallmark of these books are their distinctive illustrations, so be sure to have them include some as well.
What is your child's favorite picture book? What's your favorite picture book?