Expecting a newborn can be the most exciting thing to happen to you. The idea of starting or growing your family can be quite joyous for everyone in the family and all their loved ones. As soon as you hear the good news about your pregnancy, it is normal to want to prepare everything quickly and start nesting for your baby's arrival. However, you should not be led by temptation when you are making your purchases and instead focus on the practical essentials. There are many other necessities that you can focus on before jumping into buying everything. Choosing a name can be one of these that will help take you away from the temptation of making purchases. When choosing your baby's name it needs to be special for your baby just like everything else and having meaning behind your newborn's name is unique. Baby names from culturals like France can be very chic and elegant. Choosing the name is a start that isn't costing you any money.  
Nappies
If there is one thing that you can never have enough of as soon as your baby's arrival, it is nappies. Make sure you get an assortment of nappies in all different sizes and brands if you can, as babies grow up quite fast. Many parents make the mistake of buying too many nappies in the smallest size available and do not realize how quickly their infants will grow in their first few weeks. When you are out purchasing nappies, you might as well buy other related products like rash creams and baby powder so that you ensure your newborn's skin is always smooth and avoid any risks. 
Bassinet 
As soon as your infant arrives in the world, you will need to think about their sleeping arrangements. As mentioned by reviewers at https://www.babys-mart.co.uk, you should invest in a quality bassinet for your kid so that they can sleep comfortably and safely without any risks. You will need to make sure the bassinet is big enough for your baby to sleep in as they grow for a couple of years. It is also vital that you do your research and check the quality of the bed to ensure the material it is made of is sturdy and durable. You will also need to check if the bassinet comes with its own mattress or if you will need to invest in one yourself. 
Basic Clothes
Babies go through a lot of clothes in their first few weeks. As a new parent, you may not always have the time to do regular wash loads and keep up with the needs of your newborn. This is why you should bulk up on basic clothes and onesies, as they will always come in handy. Similar to the case with nappies, you will need to invest in different-sized clothes as your infant will start growing pretty quickly out of their clothes. Make sure the fabric of the clothes is entirely made out of cotton and soft on your baby's skin so that they do not develop any rashes. Be sure and put an outfit in your hospital bag for the baby so they will come home in style.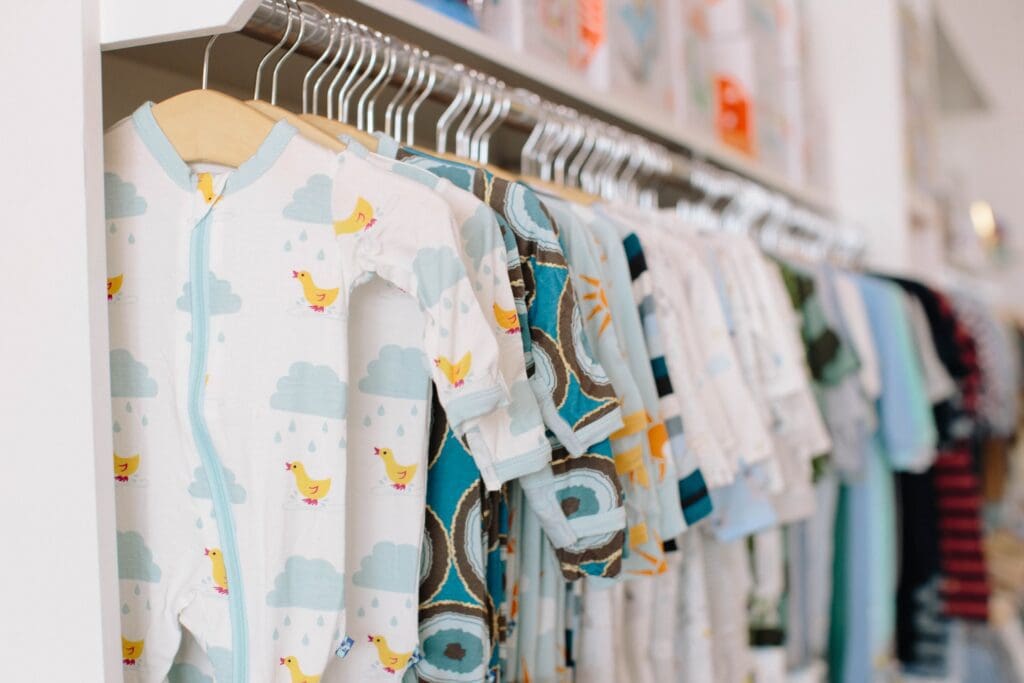 Baby Monitor
Once your baby arrives in the world, you will need to keep a watchful eye on them to ensure they are happy and healthy at all times. Because we are human, and it is impossible to have your eyes on your baby every second of every day, you should invest in a baby monitor. The small device is usually split into two halves, one will be placed in your baby's room, and the other will be with you wherever you go. This way, you should be able to see and hear your baby whenever you leave them out of your sight, without technically leaving them out of your sight. Using a baby monitor will give you more of a chance to get chores done around the house and have some time to yourself without neglecting your child. 
Car Seat
After giving birth, you may need to spend some time in the house without moving much or going anywhere. However, after a short period of time, you will likely need to get out of the house to run errands or simply get fresh air while driving around. In order to take your baby with you wherever you go and make sure they are safe in the car, you should buy a car seat for them. Those seats are designed to keep your children safe and secure in place as you drive and in any unfortunate case of accidents or road bumps. 
Getting the news that you are having a baby can be the best thing to happen to you and your family. As soon as you get the happy news, you should focus all your excitement on preparing all the essentials for your baby's arrival. Make sure you do a lot of research before investing in any baby product or item to ensure they are good enough for your child and pose no risks to them. Remember that spending time with your baby is the most important thing in the world, so keep that as your main focus.
Featured Photo by Jonathan Borba on Unsplash