This is a sponsored post written by me on behalf of Hallmark Hall of Fame for IZEA. All opinions are 100% mine.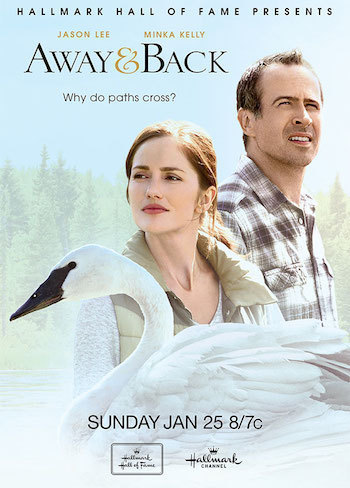 We're always on the lookout for family-friendly movies. While our family enjoys a good animated film and going to the movies is one of our favorite family "dates," we also look for good movies to enjoy at home for a family movie night with popcorn and smoothies (or, if they're lucky, hot cocoa!).
On Sunday, 1/25 (at 8/7 Central), Hallmark Hall of Fame will present a brand new family film on the Hallmark Channel: AWAY & BACK, starring Jason Lee and Minka Kelly, and directed by Jeff Bleckner, director of Hallmark Hall of Fame favorites like Remember Sunday and Loving Leah.
"When a family of swans makes their home on the Peterson farm, it's love at first sight for 10-year-old daughter Frankie (Maggie Elizabeth Jones). But along comes no-nonsense ornithologist Ginny Newsom (Minka Kelly), who rushes in to "save" the majestic birds. For Frankie's dad Jack (Jason Lee), it's dislike at first sight when he encounters pushy, know-it-all Ginny. Frankie and her brothers are anything but neutral observers as they watch the initial hostility between their widowed father and the strong-willed Ginny transform into something else."
Hallmark Hall of Fame has been offering uplifting, family-friendly films for more than 60 years and AWAY & BACK promises to be no exception!
In addition, when you share the AWAY & BACK Trailer – Share to Win Sweepstakes, you'll be entered to win a vacation to a national park in the U.S., or another location of your choice.
Watch the trailer, sign up and share it for your chance to win!
After the TV premiere, DVD sales of AWAY & BACK will be available at HallmarkHallofFame.com.