If you are opening a restaurant, then you must choose the right floor plan and layout of the furniture to provide your customers with the ultimate comfort and luxury. You should always aim to meet your customers' needs. Every aspect of your restaurant furniture should match the themes and layout of your restaurant. As a modern restaurant owner, you should also focus on buying eco-friendly furniture made from recycled wood.
Buying the right chairs and tables for your restaurant is very different from buying furniture for your house. You can get the best results by buying restaurant furniture, which is tested for durability and is sold as commercial-grade furniture made from eco-friendly materials. That is because this type of furniture is easy to maintain and requires minimum upkeep in the long run.
In this article, we will provide you with some of the best tips you can follow when buying restaurant chairs.
Buying Commercial Chairs For Your Restaurant
As mentioned above, commercial-grade furniture, including restaurant chairs, can provide you with multiple benefits. There are strict protocols being followed when commercial furniture is being made. That is why restaurant shares of commercial-grade are very durable and sturdy. High-grade materials are used in the making of commercial restaurant chairs. Because of the high-quality material used in their manufacturing process, restaurant chairs can withstand lots of abuse on a daily basis while retaining their beauty in the long run.
When ordering commercial chairs for your restaurant, you can also ask the manufacturer to customize them depending on the theme of your restaurant. These chairs cannot be broken easily, and they won't corrode any time soon as well. There are also chairs for restaurants which can help you save additional space. You can use these chairs to create extra room for more customers in your restaurant.
Buying The Right Chairs For Your Restaurant
The best restaurant chair is that which provides your customers with the most amount of comfort. So, you should choose your restaurant chairs depending on the needs of your customers. Commercial grade restaurant chairs are made to provide your customers with comfort and quality while still being sturdy enough to withstand heavy usage on a daily basis. Moreover, commercial restaurant chair manufacturers always adhere to global standards when making restaurant chairs. This is the main reason why you should always prefer commercial-grade chairs over regular chairs for your restaurant.
Know What You Need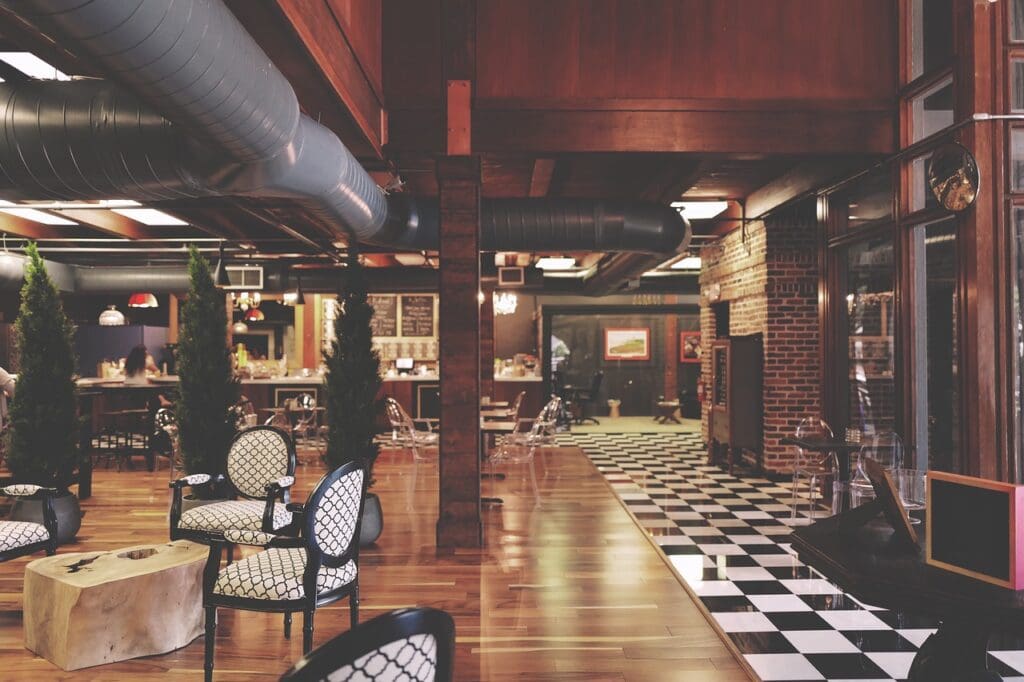 Before you start scanning the Internet for the local market for perfect restaurant chairs, you should first understand your needs. You should consider the space available in your restaurant, the type of customers you usually get, and various other factors before investing in chairs for your restaurant. Considering the layout of your restaurant when buying restaurant chairs can help you a lot in saving some space and to avoid creating a mess in your restaurant.
Consider The Build Material
The materials your restaurant chairs are made out of are also important enough to be considered first. The quality of the chairs you buy is one of the most important factors to consider, and the materials made to manufacture the chair affect the overall quality to a great extent.
You should buy commercial-grade restaurant chairs since they can be made out of wood, metal, and plastic for added durability and sturdiness.
Choose Properly Sized Chairs
You should also choose the right sized and shaped chairs for your restaurant. Doing this is very important when you're choosing chairs for your restaurant. This should be applied no matter if you are changing the layout of your restaurant or doing something else. You should choose the best styles and colors of restaurant chairs which are currently trending. The size of the chairs is also an important consideration. This will help you manage the space in your restaurant in the best way possible.
Properly sized chairs will also help you in changing the layout of your restaurant without much hassle whenever needed.
Treat Chairs as The Main Element
Chairs are, without any doubt, one of the most important things in your restaurant furniture. If your restaurant stays busy throughout the day, lots of people of different weights and sizes will sit on these chairs. That's why the chairs in your restaurant must be comfortable and sturdy enough to withstand daily usage. The chairs should be functional and durable at the same time, as these qualities are a must to look for in your restaurant chairs.
Restaurant tables are covered appropriately in most circumstances, and they aren't very visible. On the other hand, chairs aren't covered with anything, and they can be easily visible. This means that chairs are a part of the decorations in your restaurant as well.
Know The Difference Between a Regular Chair And a Restaurant Chair
In order to buy the right restaurant chairs, you should understand the key differences between regular chairs and restaurant chairs. Since restaurant chairs are subjected to heavy usage on a daily basis, they must be made with high-quality materials. While a regular chair can be reinforced for restaurant use as well, you should preferably invest in commercial-grade furniture for proper functionality.
Upholstered restaurant chairs should be made with material that is hard and resistant enough to withstand lots of abrasions. Appropriate testing is used to test upholstery materials before installing them on commercial chairs. There are specific industries set on commercial chairs which must be met with by the manufacturer. These standards are made to make sure that you get durable furniture for every type of restaurant.
These were some of the best tips you should follow when buying restaurant chairs. We can safely say that buying commercial-grade chairs is a must when you're creating the perfect sitting area in your restaurant.
Following the right way when investing in restaurant chairs for your place is the best way to go forward when planning a perfect eating place for your customers. So, we can safely conclude that investing in high-quality furniture is a must no matter what type of chairs you might be looking for.
Featured Image by Steve Buissinne from Pixabay