The following post is from Stephanie of BizzieMommy.com: Fun Ways to Capture the Holidays with Your Camera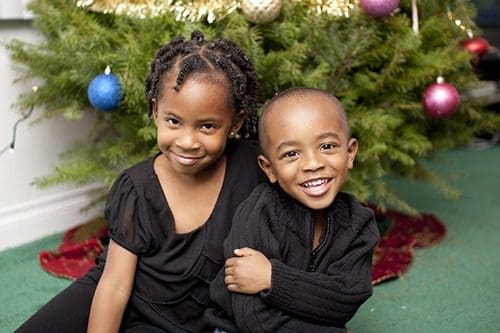 When I was younger I remember being forced to huddle with the family to take the "annual family holiday portrait" as everyone moaned and groaned while pictures were taken with every camera in the house.
One year we all wore the same holiday sweatshirt and another year everyone wore a red sweater.
This went on for years until we kids finally reached the rebellious teenage years and started refusing. But they still scrambled everyone together every year for that holiday photo with the awkward fake smiles. And they almost came out exactly how they felt…forced.
Don't get me wrong. Family portraits are important, and holiday portraits of the entire family are a great way to capture the season. But there are some amazing ways to capture those special moments without having to force a smile.
The Holiday Card
A seasonal staple…the holiday card.
If you are like me, you probably don't have a family portrait to use for your cards, but it's not too late. Talk to your friends to find a local photographer to shoot one for you (many photographers offer quick holiday sessions this time of year!) or you can make one yourself with minimal stress.
To get that blurry background you see in most professional photos, take a few steps back from your subject and zoom in tight. Set your camera to portrait mode or aperture priority on a DSLR. Keep the aperture wider, around F/2.5, F/3.5 to get a creamy background. Be sure to focus on the eyes. If you choose to shoot indoors, remember to bump your ISO up to 800 or higher and use a camera tripod to reduce camera shake.
The Preparation
We tend to get so wrapped up in the decorating and preparation of our home that we often forget to capture this exciting time. Take a moment to capture your kids decorating the tree or building gingerbread houses. Last year we set the video camera on time-lapse mode and now have a quick twenty-second video of us decorating the tree.
Another fun thing to capture is the beautiful Christmas tree you spent hours decorating. Mount your camera to a tripod and grab the longest lens you have. Set your aperture to the lowest setting — F/1.4 for some or F/2.8 for others — to get that beautiful bokeh effect.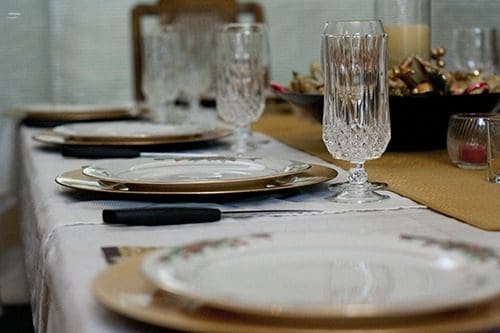 The Details
The grand final event is finally here and you have everyone coming over for the best holiday bash imaginable. Before all the guests arrive, be sure to capture the essence of the day: the place settings on the dining room table, the bacon and cheddar biscuits you baked this morning, and that golden brown turkey roasting in the oven.
If you don't have time to stop and capture the little things, designate someone in your household to really hone in on the details of the day. Change your perspective by shooting low or shooting from the top of the stairs. These quick photos will draw people into the moment when flipping through the photo album next year.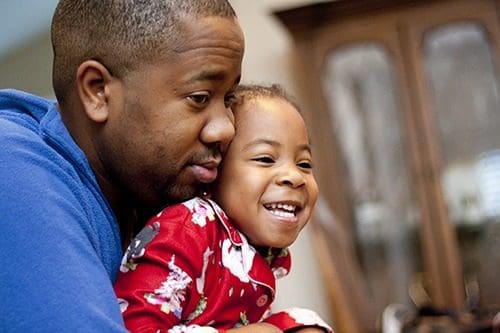 The Excitement
My absolute favorite moments to capture during the holidays are watching the kids. I love how their eyes light up when they are tearing the wrapping paper off their toys. I love how excited they get when friends come over. Take a moment to get down to their level, zoom in close, and capture those excited expressions. If you are having trouble capturing the moment, try shooting on burst mode for those active little ones.
The Group Holiday Photo
The most important thing to remember about the group shot is to have fun!
It's okay if everyone isn't looking at the camera; in fact, you may even like those candid shots more.
A couple of years back, we had our holiday dinner at my Aunt's house, and when it was time for that family photo we did the same thing we did every year. We moaned and groaned, stood in line, forced those smiles, and took the shot.
And then, it was another family's turn, and we took photos of them. And what a difference! No one was instructing them what to do, no forced smiles. They just did what they wanted, and we snapped away. You can really see their personalities in the images. I remember thinking, "Now that's how you take a family portrait."
Have fun, don't force it, and let people's personalities shine through!
Don't forget to save your photos on the internet or a memory card.
Do you have any fun and creative ways to capture the holidays?
Featured Image by Luis Alberto Bustos Quezada from Pixabay
Stephanie Elie balances 2 jobs, 2 kids, 2 blogs, and a husband and loves every bit of it. Stephanie is the author of BizzieMommy.com, and you will never find this LA tech junkie without her iPhone, Canon DSLR, and laptop, all dressed in her favorite color, Pink.