The following post is from Shaina of Food for My Family and Olmanson Photography: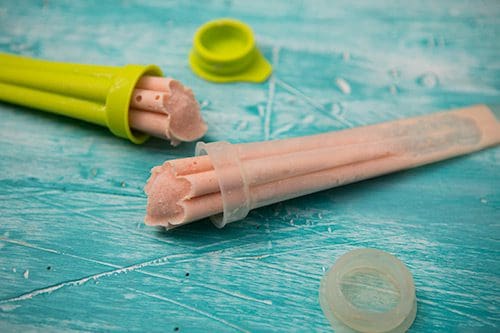 The ultimate easy snack and packable treat has become tubes of yogurt, stuck in the freezer until hard, and then eaten like a popsicle or packed to-go style and used as an extra edible ice pack. My kids love them, and I love the convenience of them, but with four kids, they can become a bit expensive if we're eating them all the time.
Making my own also has the added benefit of me controlling the ingredients that are going in, and so I can end up with a snack that leaves processed sugars out, instead looking to seasonal produce and honey for a bit of added sweetness.
While it may seem like making your own frozen yogurt tubes is straightforward — just freeze your regular yogurt, right? — in reality, freezing yogurt straight results in a product that is a bit thicker and harder to manage for tiny mouths. Seeing as how my primary consumer of these tubes has pretty small mouths, I needed to work on thinning them out a bit so that the frozen product was sweet and manageable for the kids. Fruit, honey, and yogurt do the trick without a lot of pomp and circumstance.
We freeze our yogurt in silicone pop molds that double as condiment holders in school lunches (sour cream, salsa, salad dressing) and also carry trail mix or seeds, too. They're easy to pack, and the lids are perfect for small fingers, but tight enough that they don't leak.
Homemade Frozen Yogurt Tubes
Author:
Shaina Olmanson | FoodforMyFamily.com
Ingredients
1 cup fresh or frozen fruit
½ cup water
3-4 tablespoons honey or maple syrup, depending on ripeness of the fruit
2 cups plain yogurt
½ teaspoon vanilla extract, optional
Directions
In a small saucepan add the fruit, water, and the honey. Bring to a boil, and then reduce the heat and simmer for 5 minutes. Set aside to cool to room temperature.
In a blender, blend together the fruit mixture, yogurt, and the extract until smooth.
Pour the yogurt into silicone tubes. Cap and freeze until hard. Pack in lunches or as a to-go snack, or eat directly out of the freezer.
What are your favorite snacks-on-the-run?
Shaina Olmanson is the freelance writer, photographer, and home cook behind Food for My Family. Cooking daily with and for her four kids and husband, Ole, drives her desire to inspire other families to do the same. Shaina is also the author of Desserts in Jars and contributes regularly to a variety of online sites and traditional print magazines.