The following post is from Kat of Inspired To Action: How To Have A Simple, Organized School Year
As the summer winds down and the school year quickly approaches, we turn our thoughts from sunscreen and swimsuits to pencil boxes and backpacks. But if we're not careful, the avalanche of paperwork that tends to come home in those backpacks can quickly overwhelm us.
Here are a few things we did last year that really helped us stay afloat and have an organized school year.
(I've never been home-schooled, but I imagine many of these ideas could translate well. If you're a homeschooler, I'd love to hear your ideas in the comments!)
Set Up A "Gear Station"
We used our mudroom as a place for the children to unload their things when they got home from school. There were spots for their backpacks and their shoes. And there were hooks for jackets and hats.
As soon as we arrived home each day, they unloaded their things, and before bed, they would make sure everything was ready for the next day.
This greatly reduced the odds of me tripping over a backpack or random shoe while I cooked dinner. It also limited the number of places in the house the kids "lost" school things.
Inboxes for Everyone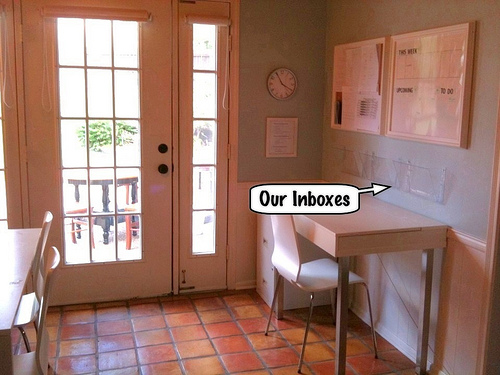 The inbox was the "next step" in our after-school routine.
One inbox for each child in school and one for me. As soon as the kids arrived home from school, they put any papers I needed to see into my box. Once I'd reviewed or signed them, I put the papers in their box to take back to school.
The inboxes were also where they put any "in progress" homework.
Not only did the inboxes help organize the flow of paperwork – "Mom? Where's my field trip form?" "In your box." It also prevented schoolwork from getting misplaced in their rooms or elsewhere in the house.
Have a "Big Picture" Wall
On the wall of our breakfast area, above our inboxes, we have a marker board and a bulletin board. These two boards are like our school-year brain. They provide a "big picture" of what we're working on and what is on the horizon.
On the marker board, I write down all our activities for the week, along with the high and low temps for each day. This gives the kids an idea of what's happening and how they should dress for each event.
On the marker board, I also list any extra chores or to-do items the children need to do. This is a wonderful way to avoid nagging.
On the bulletin board, we post any upcoming event flyers or schoolwork that deserves some recognition.
Create and Post Routines
You can see a little frame on the wall next to our inboxes. I printed out our morning, after-school, and evening routines and posted them so that my kids don't have to ask, "what's next?" I never imagined how helpful it would be!
Instead of having to figure out where everyone is in the getting ready or after school process and nag them to do the next thing, I just have to ask if they've "done their list." It makes crazy school mornings go much more smoothly.
In a small way, it also helps teach responsibility. Instead of passively coming to you for direction, they figure it out for themselves by checking the list. It's a simple way to help them problem solve and learn to manage their time well.
An Important Point
Please note that I am NOT a naturally organized person. I can barely step into my "walk-in closet." My desk is a mess (I even "cleaned" it before I took the pic) hence the automatically closing lid.
These systems may seem simple to some of you, but to others, they may seem difficult. Each tip has been incorporated into our home out of necessity…not because I'm a Type A person who thrives on keeping things tidy. Rather, I'm more of a creative (and messy) Type B person who thrives when things are tidy. I love that; for the most part, my kids just know where things go and what to do next.
So whether organizing comes easily to you or not, these simple tips will help you contain the chaos and make your home feel more peaceful. The goal is to simplify and automate as much as possible so that you can spend less time being a manager and more time being Mom.
How do you stay organized during the school year?
Kat blogs at Inspired To Action, a site dedicated to helping moms develop the habits and skills they need to effectively manage their homes and raise children who are prepared to change the world. Kat loves music, running, technology, Jesus, and Tex-Mex food. Not necessarily in that order.