If you're looking for a fun and easy way to improve your life, switching to a cargo bike could be the answer. Cargo bikes offer an exciting alternative to traditional modes of transportation, acting as the perfect option for hauling children, pets, and groceries, commuting to work, recreation, and so much more! As one of the fastest-growing industries in the world, more people are discovering the many personal, and professional benefits cargo bicycles offer, expertly combining sustainability, practicality, and fun. Now you can join the thousands of satisfied cargo e-bike owners who have switched to the world's most enjoyable form of transportation.
The Advantages Of Choosing A Cargo Bike
Cargo bikes offer so many advantages you'll wonder why you didn't switch sooner! Let's look at some of the most popular reasons you should choose a cargo e-bike.
1. Cost Savings
Cargo bikes are by far one of the most affordable forms of transportation, requiring minimal upkeep and expense. Thanks to their rechargeable batteries, you don't have to worry about rising gas prices, making them especially beneficial for those with families or who drive a lot for work. In fact, ditching your vehicle and switching to a cargo e-bike can result in savings of up to $5,000 every year, or around 2.24% of the average family's monthly income. 
2. Sustainability
Caring for the environment is the job of every citizen, which is why making everyday sustainable choices is so important. Cargo bicycles run on an electric battery, producing zero harmful emissions and having only a minimal carbon footprint. By eliminating toxic emissions, you can become an active solution in the fight against climate change, ensuring a bright and healthy planet for future generations.
3. Fun
Let's face it; cargo bikes are tons of fun for the entire family! Kids love exploring the city with the wind blowing through their hair, while parents enjoy the closeness of having their little ones in arm's reach. Even the family dog will appreciate the excitement of riding in a cargo e-bike. 
4. Family-Friendly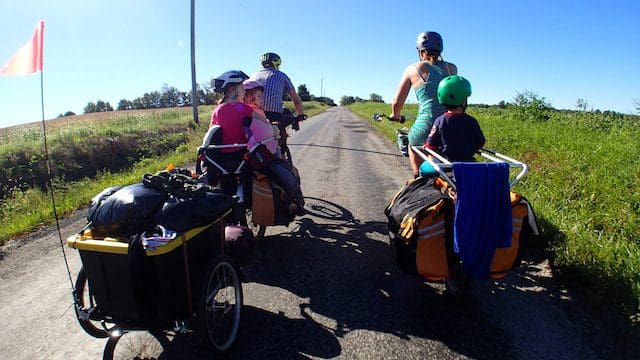 Cargo bikes are crafted to provide a family-friendly transportation experience, featuring premium safety features to make every trip safe and enjoyable. Some of these precautions include seatbelts or safety harnesses, locking cabin doors, and rain/sun covers. They have ample space for seating up to four, including room for all the gear needed for a day of adventure. Whether you're hauling groceries, going on a day trip, bringing the kids to school, or any other activity, with a cargo e-bike, you can have confidence knowing it's built with your family in mind. 
5. Stay Active
One of the most significant challenges people face is finding new and enjoyable ways to stay active. Cargo bikes are the perfect solution, providing low-impact exercise that's great for all fitness levels. Available features like optional pedal assist are great for those who are just getting started, while more experienced bikers may opt to operate their cargo bicycles manually. Staying active is one of the best ways to keep your body fit and fight against disease and sickness, ensuring a higher quality of living, longer. 
6. Accessibility
With the increase in popularity among cargo e-bike owners, more cities are creating cargo bicycle-accessible spaces, making it easier than ever to own one of these incredible transports. Many cargo bicycles work well on biking trails and city streets, making them one of the world's most flexible modes of transportation. Thanks to their compact size, there's no doubt that operating a cargo e-bike is far easier and more convenient than a traditional vehicle, especially for those living in urban and suburban settings.
7. Practicality
Finally, cargo bikes are some of the most practical modes of transportation for single riders and families alike. Thanks to their compact design, they take up minimal space, making them ideal for city living where parking is at a premium. Their low purchase cost is great for those seeking to save more of their hard-earned money while still choosing a functional form of transportation. With so many accessory options, you can personalize your cargo bike to fit your needs, ensuring it grows with your family for years to come.
If you're looking for a fun and exciting way to improve your life, you simply can't go wrong with a cargo e-bike! There are so many advantages to owning one of these luxurious transports, including sustainability, affordability, practicality, and enjoyment; you'll wonder why you didn't make the switch sooner. Now you can join the thousands of people who have discovered why cargo bikes are taking the world by storm and become the proud owner of your very own cargo bicycle! So, what are you waiting for? See what adventures you and your family can have with a cargo bike! 
Featured Image by jhenning from Pixabay