This month's Eat Well Spend Less topic is all things holiday!
For the past few years, I've been preparing breakfast casseroles on Christmas Eve and baking them on Christmas morning for a yummy, home-cooked breakfast without the stress. We love to all sit down and eat together — the girls, Sean and I and my parents and sister — before we start opening presents, and make-ahead breakfasts allow us to do that without feeling like it's taking forever!
We make this indulgent french toast as well as a sausage egg casserole, but I've put together a gallery of other ideas to give you a little more variety as well!


These egg cups can be made with whatever your heart desires — meat, veggies, whatever you have on hand! These are extremely convenient since all you have to do is pop them out of the container for ready-made individual portions, and they're also really pretty, which makes for a great presentation.
Source: Baked Egg Breakfast Cups | Foodie Crush

You can't really go wrong with any recipe from The Pioneer Woman, and these make-ahead breakfast melts sound delicious — not just for Christmas morning, but for any busy morning!
Source: Make-Ahead Muffin Melts | The Pioneer Woman

If your family prefers pastries for breakfast, how about these cinnamon cream cheese breakfast bars? With canned crescent rolls and cream cheese and cinnamon layers, this recipe is both easy and tasty!
Source: Cinnamon Cream Cheese Breakfast Bars | The Kitchn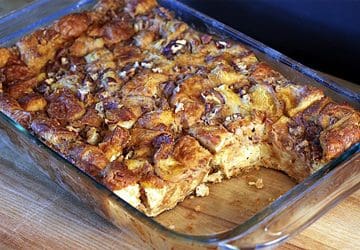 Doesn't this look amazing? Enjoy this croissant base with creamy pumpkin custard for breakfast…or dessert. I am seriously considering adding this to our Christmas breakfast menu!
Source: Pumpkin Pecan Croissant Bread Pudding | The Yummy Life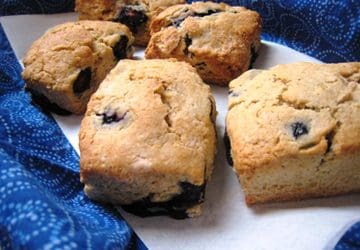 These lemon blueberry scones from Jessica at Good (Cheap) Eats can be made well in advance, flash frozen and then baked fresh on Christmas morning for a hot breakfast without any of the stress!
Source: Lemon-Blueberry Scones | Good (Cheap) Eats

If you're looking for a more traditional french toast recipe with the convenience of prepping it the night before, Aimee from Simple Bites has you covered. This pull-apart french toast is made ahead of time and baked like other french toast casseroles, but you can serve it in yummy golden slices, just like traditional french toast!
Source: Baked Pull-Apart Pumpkin French Toast | Simple Bites

For a spicier breakfast dish, try this chile tortilla eggbake. Tortillas layered with eggs, plenty of cheese and chiles bake together in bubbly, cheesy goodness! This recipe is also adaptable, and you'll find quite a few variations on the recipe .
Source: Chile Tortilla Eggbake | Family.com

Start this creamy cardamom pear oatmeal the night before and serve it hot on Christmas morning — no matter what time your kiddos come racing out of their rooms! Pears are one of my favorite seasonal fruits, and this recipe is both wholesome and delicious.
Source: Creamy Cardamom Pear Oatmeal | Food for My Family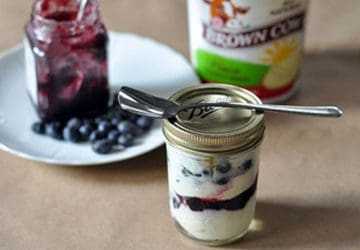 It's amazing what we pay extra for in the name of convenience! These fruit-on-the-bottom yogurt cups not only look amazing, but you get all of the yumminess without the extra sugars and preservatives…or the extra cost. This is an especially good option if you have to be on the road early Christmas morning. Just grab-and-go!
Source: Fruit on the Bottom Yogurt Cups | The Kitchn