The following post is from Stephanie of Playing House: Making and Using Tot Trays with Your Little Ones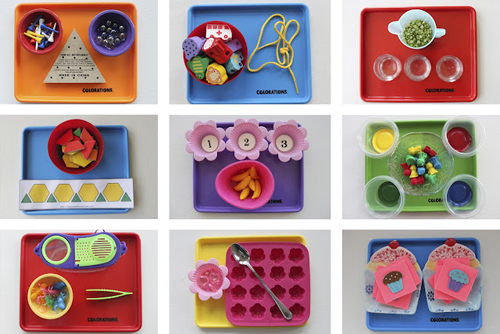 When I was pregnant with my little guy (now 15 months), I knew I wanted to stay home with my kids but was a little overwhelmed by how I would be able to entertain my daughter while being able to care for a newborn.  My daughter was 20 months when my son was born and was used to all my time and attention.  I wanted to find a way to provide education but fun learning activities for her each day.
Before the days of Pinterest (that would have saved me some time!), I searched and searched for something I could do with my daughter.  Finally, I came across the most ingenious (I think) idea.  Tot trays!
What Are Tot Trays?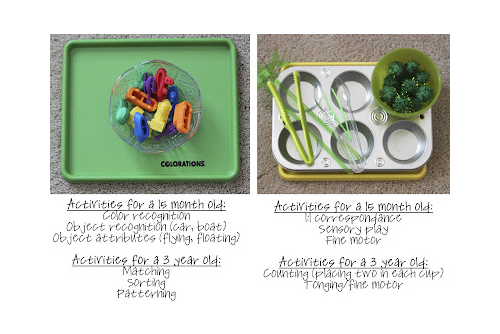 I loved the idea from the minute I saw and read about them.  Then I spent lots and lots of time researching the different types of activities included on the tot trays.  Most of the activities are Montessori-inspired, which I loved!  As originally written about on 1+1+1=1 blog, the areas of focus include:
Pouring
Transferring
Beading
Spooning
Sorting
Matching
Counting
Cutting
Gluing/Pasting
Small spaces
The awesome thing about the trays is that they can easily be customized for your child's developmental age and interests.  Above is an example of how I try to incorporate both my 3-year-old daughter and my 15-month-old son during our tot tray time.
Tot Tray Supplies
I receive lots of questions about where I get my supplies for our tot trays.  Most of my supplies are from the dollar store or the dollar section at Target.  Once you get the hang of what to include on trays and what is most appropriate for your child, you will start to see supplies pretty much everywhere you go (like the pet store, hair salon, gas station).
I have also purchased some supplies from Lakeshore Learning, Kid Advance, and Montessori Services (and I've been happy with them all).   A great little Etsy Shop, Time for Tots has some awesome starter kits, and my trays are from Discount School Supply.
Additional Resources
Here are some of my favorite resources for tray ideas:
Do you use tot trays with your kids?

Stephanie is a stay-at-home mom to two adorable kiddos. She shares her crafty momma projects, kid crafts, and learning activities on her blog, Playing House.