The following post is from Jason & Jennifer Bruce of New Season Design: Mini Christmas Coloring Book
Try this printable Christmas activity book if you're looking for something fun to keep the kids occupied.
With coloring pages, a word find, and a fun mad lib, it would make a fun stocking stuffer, holiday party favor, gift, or busy bag activity!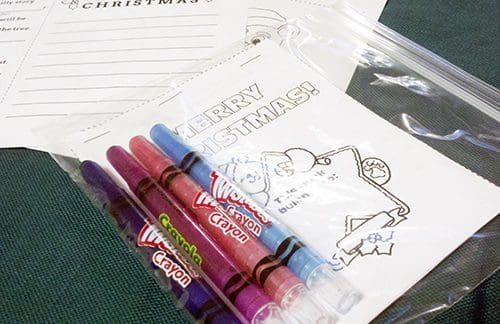 I love the idea of putting the finished booklet and a few crayons into a zipper sandwich bag and keeping it tucked in my purse. It would be perfect for those times when you have to wait somewhere and need a little bit of entertainment.
Click here to download or print the mini Christmas coloring book.
Related Projects:
Join us as we celebrate 101 Days of Christmas with new DIY projects, gift ideas, traditions, and more every day from now through Christmas!
Jason & Jennifer Bruce are the husband-and-wife design team behind New Season Design, where they work together to help clients put their best foot forward online. Jason is a pastor-turned-graphic designer, and Jennifer is a teacher-turned-blog designer who also blogs at The Simple Pen about life, learning, and the things she loves.