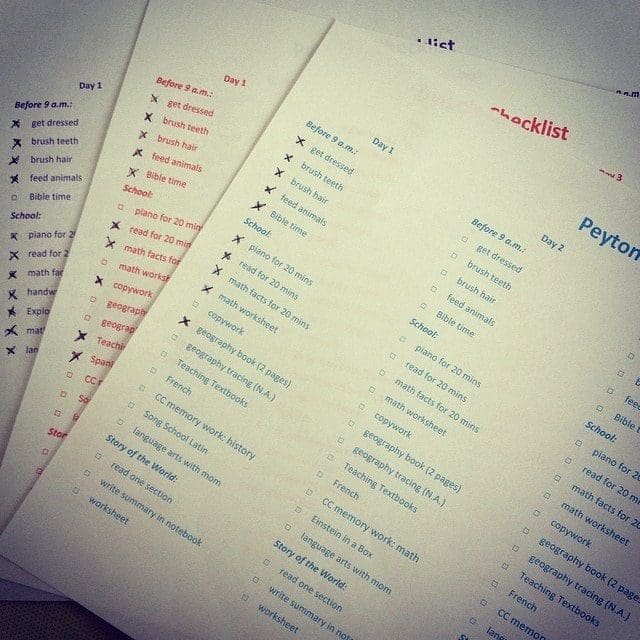 Homeschool planning
As the new school year kicks off, there's been a lot of talk about homeschool planning in my circles, both online and locally, and I realized I've never really shared my stress-free homeschool planning method.
You see, I used to sit down once a week and lesson plan: deciding which lessons would be taught which days, how I would supplement them, how much we'd get done, etc.
The only problem? I'm not very good at anticipating what will come up in a given week, and, inevitably, we'd end up going on a field trip or a playdate, struggling with a lesson, or spending an entire homeschool day researching the natural habits of a slug.
And then the whole dang plan was off-kilter, especially if we had the audacity to go off schedule on Monday!
Working without any plan
On the other hand, working without any plan at all left us floundering and wandering aimlessly. I would remember something I wanted to have the girls do and be frustrated that we hadn't gotten to it.
Eventually, I discovered our current checklist system, which is a happy medium between detailed homeschool planning and aimless wandering.
You may have seen pictures of our checklists in other homeschooling posts, but here's how those work:
Each of the girls has a daily checklist of activities to complete. With these checklists, we all know what topics we need to cover each day, but there are no assigned page numbers, activities, etc. We simply work through those sequentially.
So, that means that the checklist says things like "Teaching Textbooks" and "read a chapter in Story of the World." On Monday morning, assuming we haven't tossed school aside so that the girls can forage berries in the yard or read a slave girl's diary, we simply turn to the next chapter of Story of the World or Teaching Textbooks and start there. Sometimes the girls will write down which lesson they're on; sometimes, they just remember. The next day, they'll move on to the next lesson, and so on.
Preparing in advance
Now, when I say I don't preplan lessons, that's not entirely true. I do copy the pages we'll need for upcoming lessons and activities a week or two in advance (but if we don't get to them that week, we simply hold onto them for the next rather than scrambling to adjust the lessons and wasting pages in the process).
I also pull out books related to upcoming topics so that girls can find those in one place rather than having to search through the shelves.
We don't do a lot of other hands-on activities, but if we did, I would pull the supplies for those together in batches a couple of weeks in advance and then work through them when we got to the appropriate lesson.
I print the checklists in 4-6 week batches, adjusting them each time to include current chores, changes to our curriculum, and details (like North America for geography tracing).
At the girls' current ages (our oldest is turning 10 this fall), I don't worry too much about keeping detailed records of what they get done each day. If I felt like I needed to have that information or our state required it, I would simply write down chapters, books, etc., on the checklists themselves and then save them.
Added flexibility
You'll also notice that the checklist is not labeled "Monday," "Tuesday," etc. but rather "Day 1", "Day 2," and so on. That gives us additional flexibility in our school week. We plan on a 4-day school week, and the girls have also been known to spend the evening working ahead on the next day's work if they want to take an extra day off.
Doing it this way gives us the perfect blend of structure and spontaneity and eliminates a lot of the stress and guilt around homeschool planning that I was feeling before!
How do YOU plan each week?
(P.S. Download the homeschool checklist template here.)