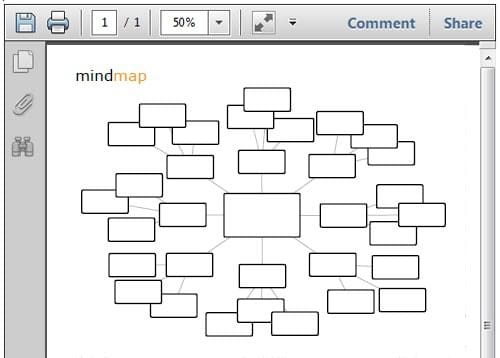 Have you ever used a mind map to brainstorm or outline an idea?
If not, you're missing out on a great tool (and if you have, you can skip the next four paragraphs and head straight to the free printable at the end!).
A mind map allows you to start with one idea and break it down into more detailed or focused topics. Whether you're creating an outline for an ebook, brainstorming categories for your blog or just trying to come up with more ideas for posts, a mind map helps you take a big idea and articulate related subtopics.
To start, take one big idea and place it in the large box in the center. If you're writing an ebook on remote-controlled airplanes, you'd write "remote-controlled airplanes" in the middle box. If you're brainstorming categories for a new blog,  you'd write your blog name their. If you're looking for more post ideas, you might pick one category on your blog — let's say organizing — and write it there.
Next, think about subtopics related to that main topic. In the first example, you might talk about why remote-controlled airplanes are a fun hobby, the costs involved, how to get started, etc. Once you've defined these subtopics, you'll break them down into even more detailed subtopics that you want to talk about. On your organizing blog, you might write down meal planning as a subtopic and include posts about the benefits, the meal-planning programs and systems available and the reasons you might not want to meal plan.
A mind map can be used in a variety of ways — and not just by bloggers — to organize your ideas and thoughts!
The mind map template, like all of our printables, can be filled out on the computer before printing.
Click here download or print the free Mind Map Template.
Or get all of the Life Your Way printables in a single download when you buy the complete download pack for just $7! The complete set includes all printables published to date, organized by folder within a single download. It also includes free monthly email updates with any new or updated printables in a single download as well. Read more about download packs here.