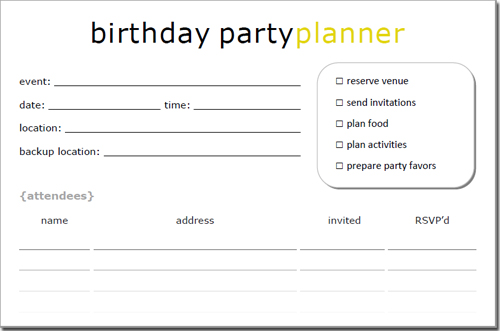 After my oldest daughter's 6th birthday party, I knew we needed a Birthday Party Planner in the printables collection here at Life Your Way. Then Abra emailed me requesting one as well, and she was gracious enough to offer her feedback as I put this together.
Party planner List
The party planner helps you plan for the party. It is a great way to be organized and know what you need to do and what food to prepare. On the first page is a short checklist to remind you what items still need to be completed.
The first thing you want to decide is the theme of the party. Once a theme is decided, you know what kind of food and games to plan.
Reserve a venue if you are not having the party at home.
Select invitations that go with the theme. Be sure to include the directions to the venue, even if it is at your home.
Create a timeline schedule including each activity. This will help you stay on track.
What foods will you serve? Finger foods or just cake and ice cream? Make it easy on yourself. You may want to enlist friends to help you during the party.
What games and activities will you be doing? This will depend on what time of year it is. Spring and summer can be outside. Cooler weather may have to be inside. You will have to determine games that are appropriate for the age of the children and if it is inside or outside.
What decorations will you have? Streamers and balloons are favorites. Don't forget the tablecloths, plates, cups, and napkins that are centered on your theme.
Now for the fun part. Create a shopping list of the things that you will need for the party.
Relax and enjoy the party
Using the birthday party planner will help you be less stressed. You are not likely to forget anything. Enjoy your party!
Next time you're in party-planning mode, use this free Birthday Party Planner to ensure you don't forget any details. Whether you're having a party at home or at a different venue, this printable will make planning simple and easy!
Do you do big birthday parties or low-key celebrations?
Featured Image by Vinicius Vinny from Pixabay