Bringing the nativity story to life is has always been an important part of our Christmas celebration. Just last year Emma captivated us with her retelling of Jesus' birth. She used her Bible and her nativity set and moved the little characters around as she read each part of the story.
Like last year's Jesse Tree ornaments, this printable nativity set helps your kids bring the birth of Jesus to life!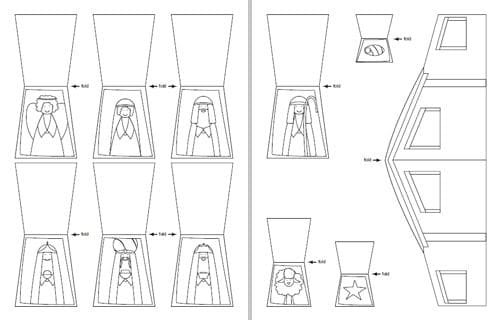 Print the set in full color, or print a black and white set and color the pieces (individually or as a family). These little characters are in for hours of playtime at our house, and I hope your family enjoys retelling the Christmas story along with us.
Click here to download or print the paper nativity set.
Related Projects:
Join us as we celebrate 101 Days of Christmas with new DIY projects, gift ideas, traditions and more every day from now through Christmas!
Jason & Jennifer Bruce are the husband-and-wife design team behind New Season Design, where they work together to help clients put their best foot forward online. Jason is a pastor-turned-graphic designer, and Jennifer is a teacher-turned-blog designer who also blogs at The Simple Pen about life, learning and the things she loves.