The following post is from Shaina of Food for My Family and Olmanson Photography: Quick and Easy Crustless Quiche with Spinach and Sausage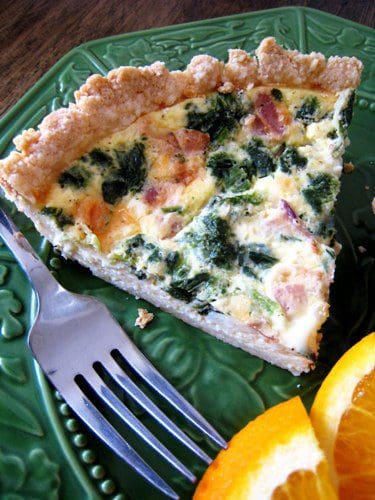 I've had quiche on my menu for the last two weeks, continuously putting it off. It's not that quiche in its traditional sense, with its pastry crust so difficult to make. Still, the thought of mixing and patting out the crust, followed by a good deal of baking and waiting, has simply forced me to turn to more general breakfast-for-dinner options like a pan of scrambled eggs or a few waffles tossed into the iron and monitored by my kids. At the same time, I slice mangoes or set to bacon baking.
My hesitation with crustless quiche is not that I am a purest and believe the quiche needs to be encased in a flaky pastry crust. On the contrary, it's that I've had a wonderful crustless quiche I could never seem to replicate where the eggs were whipped just so and had an almost fluffy bread-like quality to them. Souffle-like without all the whipping of egg whites and worry that it would fall. Little did I know that the answer to my problem was simply upping the ratio of cornstarch to liquid and giving it a whirl when I simply couldn't put off quiche for dinner any longer.
The result was a fluffy egg dish speckled with spring green spinach and juicy bits of sausage, bursting with flavor. My favorite bits, of course, are found in the layer around the edge of the pie plate that turns into their own sort of crust, crisp and chewy all at once.
Crustless Quiche with Spinach and Sausage
Author:
Shaina Olmanson | FoodforMyFamily.com
Ingredients
⅓ cup cornstarch or arrowroot powder
1 cup milk
¾ cup heavy cream
4 eggs
½ teaspoon salt
2 tablespoons butter or olive oil
2 shallots, finely chopped
2 cups packed fresh spinach, stems removed
2 large chicken sausages, sliced into rounds
¼ cup shredded Gruyere cheese
Directions
Preheat the oven to 425º F. Grease a 10" pie plate. In a medium mixing bowl, add the cornstarch and slowly drizzle the milk in while whisking until smooth. Whisk in the cream, eggs, and salt.
In a medium saute pan, heat the oil. Add in the shallots and cook for 3 minutes before adding the spinach. Cook until the spinach is wilted. Place the spinach and scallops into the bottom of the pie plate.
Return the pan to the heat and add in the sliced sausage and cook until heated through. Add the sausage rounds to the pie plate. Sprinkle the cheese over the sausages and pour the egg mixture on top.
Bake for 28-32 minutes, until the center of the quiche is set. Allow to cool before cutting. Serve warm.
What dishes are you afraid of making for they seem impossible to replicate?
Shaina Olmanson is the freelance writer, photographer, and home cook behind Food for My Family. Cooking daily with and for her four kids and husband, Ole, drives her desire to inspire other families to do the same. Shaina is also the author of Desserts in Jars and regularly contributes to various online sites and traditional print magazines.