The following post is from Shaina of Food for My Family and Olmanson Photography: Shrimp and Cucumber Canapés: A Gluten-Free Appetizer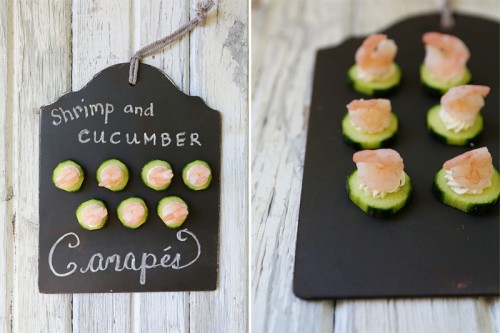 I have resolved to open my doors again to friends for the New Year. We love entertaining. Not entertaining in the "invite five couples over and 'do it up'" sense, but just having our friends over to our family dinner, spontaneously offering to share our Sunday meal with the neighbors, inviting my sister over after work to sit and eat with us.
For our family, 2012 was one marked by the busy hustle that overwhelmed us in each season. It's easy to get caught in that hurried state, leaving things undone and making excuses for why tonight, this week, this month isn't a good time to invite someone over to sit and eat with. Rather than excuse myself from the relationships, I would like to continue, I want to be intentional about making time for them.
Dinner doesn't have to be fancy or multi-coursed, but just served and shared. Now, I know you're thinking serving canapés does not correlate with that statement. However, if I've learned one thing by inviting friends over for dinner during the weeknights when there are all those life things getting in the way, it's good to have a few bites out to eat and chat while you finish up all those finishing touches that didn't get done quite get done on time because of those life things.
These are just a distraction to the main course…unless you are serving a dinner of finger foods. I find that perfectly acceptable, too. These light little bites of lemon-tossed shrimp and crisp cucumber are wonderful appetizers or starters for guests when you're entertaining, whether it's just dinner with friends, celebrating a special day, Valentine's Day dinner, or themed parties.

Cucumber and Shrimp Canapés
Author:
Shaina Olmanson | Food for My Family
Ingredients
⅓ cup cream cheese, softened
1 tablespoon lemon juice
¼ teaspoon dried dill
¼ teaspoon salt
20 cooked and peeled salad shrimp
1 English cucumber
Directions
Mix together the cream cheese, 2 teaspoons of the lemon juice, the dried dill, and the salt until smooth. Place in a zip-top bag or in a pastry bag.
Toss the shrimp with the remaining lemon juice. Using a small paring knife, slice the shrimp lengthwise down body, filleting it open.
Peel the cucumber if desired, and then slice into ¼" slices. Pipe a small dab of cream cheese onto each cucumber slice, and top with a shrimp. Garnish with dill, if desired.
When is the last time you shared your daily dinner with a friend or loved one?
Shaina Olmanson is the freelance writer, photographer, and home cook behind Food for My Family. Cooking daily with and for her four kids and husband, Ole, drives her desire to inspire other families to do the same. Shaina is also the author of Desserts in Jars and regularly contributes to various online sites and traditional print magazines.