The following post is from Kristina of Toddler Approved: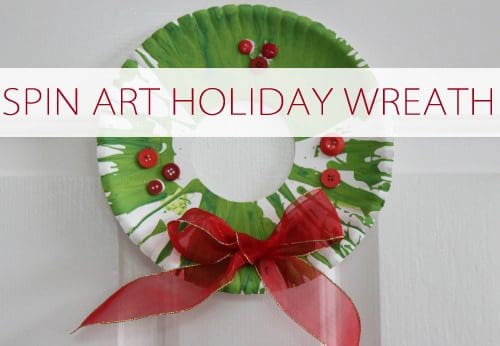 We love decorating with wreaths! This week we made spin art holiday wreath craft using paper plates and a salad spinner.
These are not only fun to make but also beautiful to display!
Supplies:
paper plates
blue & yellow paint
red buttons
scissors
glue
tape
red ribbon
salad spinner (you can buy them super cheap at IKEA)
Instructions:
To start off our spin art project we put a paper plate inside our salad spinner. Then we mixed blue and yellow paint together (with a few drops of water) to make green. We wanted homemade green paint so that we'd have a bit of variety in the green color.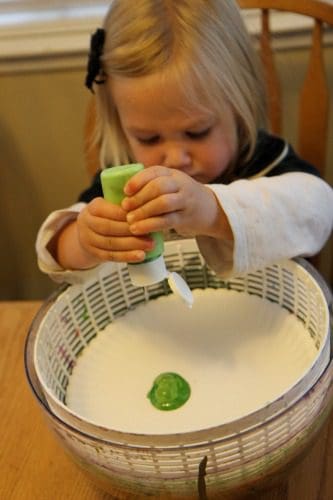 Next we added paint to the paper plate, closed the salad spinner, and started spinning it! After we let it spin for awhile, we opened the top and admired our creation!
source: Kristina Buskirk
After letting the plates dry for a few hours, we cut out a circle from the center of each plate. Then we gathered our supplies and began to add bows and buttons to the wreaths.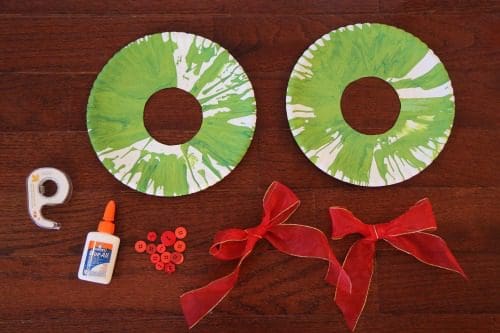 My daughter is in love with button crafts, so she really enjoyed sorting and selecting the buttons to use for this project. We glued the buttons on the paper plates in little bunches so that they looked like berries.
After we glued on buttons, we added bows, and then we let the wreaths dry. Once dry they were ready to use to dress up our house for the holidays!
During the holidays I love keeping craft projects for kids simple so that I don't get stressed out and so we can focus on connecting with one another instead of making our crafts look perfect. This spin art holiday wreath craft is awesome for creative kids of all ages! I enjoyed doing it as much as my two kiddos who are ages 3 and 5.
Related Projects:
Join us as we celebrate 101 Days of Christmas with new DIY projects, gift ideas, traditions and more every day from now through Christmas!
Kristina Buskirk is a mom of 3 and a former Special Ed teacher for children with communication disabilities. She blogs at Toddler Approved as she looks for ways to make life a little more fun and creative with her kids while embedding learning into everything that she does.