The following post is from Kristina of Toddler Approved: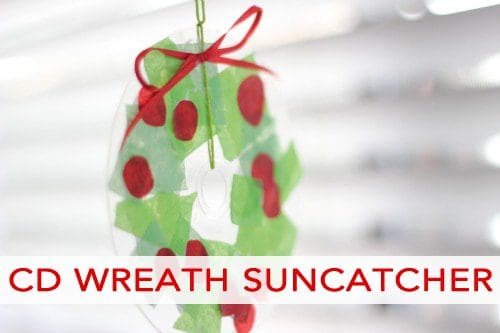 Earlier this year I noticed some beautiful CD suncatchers shining in the windows at my son's school. I loved watching how the colors danced around and made the windows look so magical. I decided that we needed to use the idea and create some festive Christmas decorations for the large windows in our kitchen.
These simple CD wreath suncatchers are easy to make and can transform your windows just in time for the holiday season to start.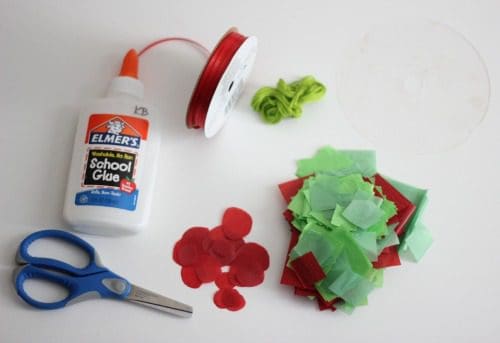 Supplies:
green and red tissue paper
scissors
clear CD spacer (comes in between CDs)
glue
ribbon
embroidery floss or string
Directions:
Cut green tissue paper into small squares and red tissue paper into little round circles. This is a great activity for kids who are working on their cutting skills.
Cover one side of the CD with glue.
Press cut tissue paper onto the glue to create your wreath design.
Add any other embellishments (bows, sequins, glitter, etc).
Let dry.
Thread a piece of string through the CD and attach the string so that the CD hangs down in front of a sunlight window.
Making these CD suncatchers is so easy that you'll find you want to keep making them! We plan to have several of them hanging down in front of the window in our breakfast nook so that we can enjoy them all day long!
I love crafts like these that are simple enough that my toddler and 5-year old can both do them… and I have fun too! One of my goals of the holiday season is to spend more time connecting with my kids in small ways. Sitting and crafting together is such a great way to talk with one another and enjoy time together.
What are some other ways that you connect with your children in small ways during the hustle and bustle of the holiday season? What other Christmas crafts have you made with CDs or CD spacers?
Related Projects:
Join us as we celebrate 101 Days of Christmas with new DIY projects, gift ideas, traditions, and more every day from now through Christmas!
Kristina Buskirk is a mom of 3 and a former Special Ed teacher for children with communication disabilities. She blogs at Toddler Approved as she looks for ways to make life a little more fun and creative with her kids while embedding learning into everything that she does.