It might be hard to believe now, but spring is already around the corner, with summer not far behind. Coupled with spending more time outside is better for our health and wellbeing (especially during the pandemic), now's the time to consider updating and upgrading your outdoor living space.
Not sure where to begin or what to do? No worries – here are five suggestions to help get you started:
Build an outdoor kitchen
Build a new kitchen? But I already have a kitchen! Yes, but there are several advantages to outdoor kitchens versus the traditional indoor version. For one thing, kitchens are safer when located outdoors. Secondly, outdoor kitchens help keep certain dishes from stinking up the house, such as fish and cooked cabbage. Lastly, they make it more practical for families to eat outside. Best of all, homeowners can use outdoor kitchen builder tools online to design the right layout before agreeing to buy.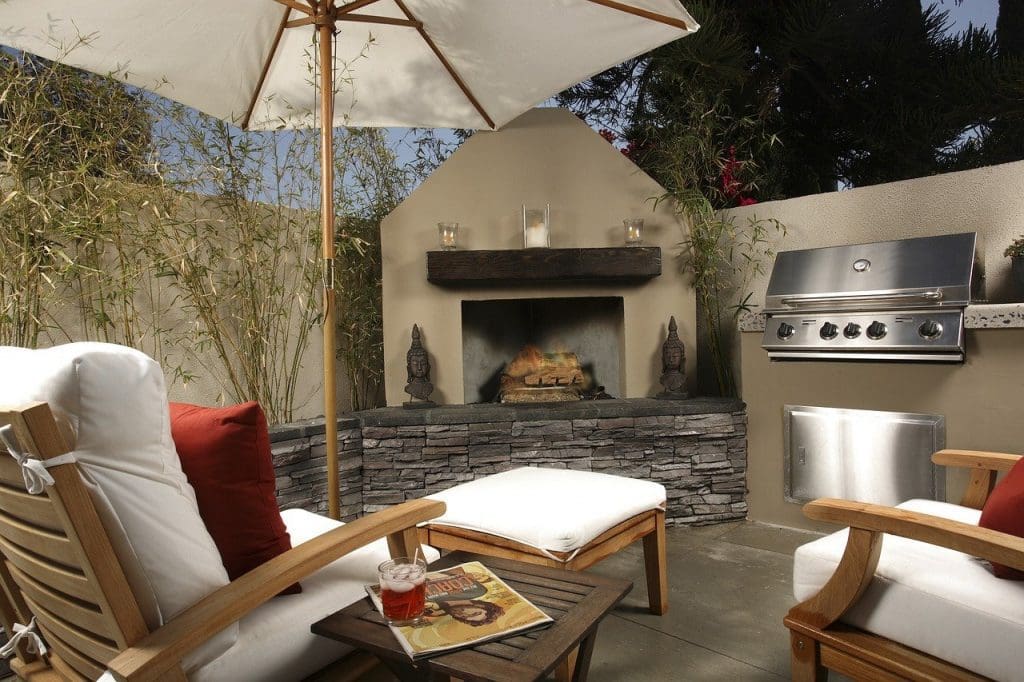 Optimize outdoor eating space
While there's nothing wrong with just a modest picnic table in the backyard, why stop there? Add a canopy to shield your family from the sun and inclement weather. Invest in comfy outdoor seating for a cozier dining experience. It might also be a good idea to expand your outdoor eating space to accommodate larger groups. That way, you'll be able to host parties (once it's okay to do so again.)
Add heating elements
Whether it's a backyard firepit, outdoor space heaters, or overhead heat lamps, heating elements enable homeowners to enjoy their outdoor living space year-round instead of only when it's warm. Throw on some blankets, roast some marshmallows, and enjoy a cozy evening in the winter chill thanks to the wonderful warmth provided with outdoor heating.
Add a water feature
There's something soothing about the sound of running water. What's more, backyard ponds, fountains, and other popular water features look great as part of the landscape. The downside to water features is their tendency to malfunction and foul-up. Fortunately, routine maintenance is usually enough to avoid these problems from occurring.
Add recreational space
If you have a big backyard with plenty of space, why not add a recreational area? Even something as simple as setting up a volleyball net can provide hours upon hours of fun and exciting outdoor activities. Tennis courts, basketball courts, and pools are other ways to convert unused yard space into functional rec space.
While representing some of the most popular and useful ideas for perfecting your outdoor living space, the list above is far from comprehensive. Homeowners can also consider building gazebos, privacy fencing, brickwork walkways, vegetable gardens, flower gardens, and so much more.
Between warmer weather on the horizon and the worst days of the pandemic (hopefully) soon behind us, spring 2021 is gearing up to be a great time to improve your outdoor living space. Whether the aim is eating more meals outside, having more fun outside, or sharing more memories outside, the result is the same: you're spending more time outdoors, which is proven to be tremendously beneficial to your health and wellbeing, as as well as the health and wellbeing of your family members.
Featured Image by Jill Wellington from Pixabay