Do you want more than a "good enough" mattress topper? Read closely: Most DIY mattress toppers are doomed to fail because people lower their expectations. Instead, aim for excellence. These top 5 recommendations to DIY a mattress topper is all you'll need.
A 100% unique mattress is thick, lofty, heavy, and keeps you warm while you sleep. So, it's worth the effort. Plus, it'll cost much less than a mass-produced mattress topper while providing a better level of comfort. What more could you ask for? If you aren't afraid to get your hands a bit dirty, these no-hassle recommendations are for you.
1. Choose the Best Fill Material for Your Topper
Most people overlook the importance of filling materials. So, they end up investing in a ready-made mattress topper they can cut and resew. This isn't preferable, as you'll likely be wasting your own time and money. Instead, you want to choose a filling material specific to you and your needs.
Luckily, you have plenty of options to choose from! The more options available to you, the better your DIY mattress topper will fit your needs. Take a look at a few examples of mattress topper fillers available at your local shop and online. Here are some materials to look out for:
Wool

Memory foam

Down (feathers)

Polyfoam

Latex

Cotton
Not all materials are created equal, and some are more available, cheaper, and more comfortable. Budget, allergies, and firmness should guide your choice of fill material. For more DIY mattress requirements, you can look at this article.
2. Acquire Skills, Experience, and Equipment
Your skills and DIY experience will make or break your effort. Many people disregard this step by overestimating their prowess. A mattress topper doesn't require mad DIY skills, but you'll need some experience. On the bright side, even a total beginner with basic knowledge can achieve this.
Take inventory of your skills and tools. Have you done similar projects in the past? Do you need to oil your rusty sewing machine? You can always go to YouTube and learn the skills you'll need by watching tutorials on sewing, cutting with scissors, and designing your project.
The right tools are crucial for your success, and they'll make your operation go smoothly. Remember: you don't need fancy equipment. Experience and dedication will more than make up for your lack of equipment. Here are the following tools you may need when DIYing your mattress topper:
Measuring tape

Scissors

Sewing machine

Glue

Pins

Sewing needles

Thread
3. Select a Durable Cover Material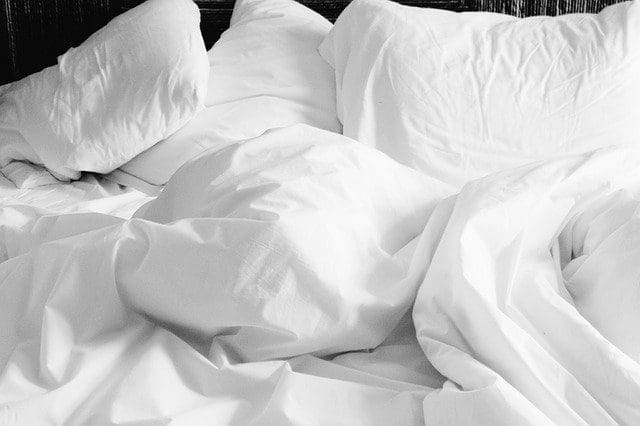 You'll need to bring your inner tailor out to play at this stage. In other words, it's time to choose the covering fabric for your DIY mattress topper. Similar to your filling material, there are various options to choose from, depending on your needs. Below is a list of cover materials that you might wish to choose from:
Outlast Fabric:

 Best-suited for temperature control if you tend to sweat in your sleep. Astronauts also use outlast technologies in their spacesuits.

Silver-Treated Cotton:

 Enhances your sleep by keeping you warm; 

retains and reflects 80% of your body heat

.

Aloe Vera Fabric:

 This fabric improves your mood due to its skin-friendly properties, a wise choice for individuals with sensitive skin.

Rayon:

 This material is very breathable; an excellent choice for hot sleepers.
Your cover material is arguably more important than the other materials in your DIY mattress topper. After all, the cover is the visible part of the mattress topper. Not to mention: it'll be in direct contact with your skin. We recommend that you don't skimp and choose the best possible covering fabric. For best results, work with the fabric you know best.
4. Have a Design in Mind
Like with any DIY project, you should approach your mattress topper with a design in mind. Strive to make the final product match your expectations. Since you're making the mattress topper with your time and materials, it only makes sense to do the best work possible.
The advantage of designing your DIY mattress topper is that you can design it based on your needs. Otherwise, you'd likely save yourself the trouble and buy one off the shelf at the store. However, a DIY mattress topper allows you to cover all your bases. When designing your DIY mattress topper, consider the following:
Thickness

Firmness

Softness

Cleaning

Temperature control

Maintenance

Safety of materials
5. Budget Accordingly
When creating your DIY mattress topper, our last recommendation includes an estimated budget in the design scheme. One way to do this is by considering the materials you want to use and any equipment you might need to invest in. Once you've done that, you can step back and review the estimated cost of everything. You may decide to invest more money into materials than equipment, or vice versa.
When purchasing the materials for your project, feel free to reach out to suppliers for more information. Having real-life numbers rather than estimates will further polish your budget, allowing you to make changes as needed.
Moreover, we recommend setting a deadline for your project. Having a set deadline will motivate you more throughout your project. In addition, having a deadline will allow you to set specific goal-oriented dates for yourself.
Conclusion
The best thing about having a DIY mattress topper is it's custom-made for you and your needs. Thus, a DIY mattress topper is better than any mattress topper you can buy, even at high-end stores. Even better: a DIY mattress topper will cost you a fraction of what you'd pay for a mass-produced product. When creating a mattress topper, ensure you choose your materials wisely, produce a complete design, and set a budget for yourself. If you're interested in creating your own at home, we highly recommend following our top 5 recommendations for a DIY mattress topper.
Featured Photo by cottonbro from Pexels