Growing your own vegetables might sound intimidating. However, it does not need to be. Even the people who grow vegetables for a living had to start somewhere, so there is no reason why you could not do it too. With a bit of research, time, and dedication, you can have fresh vegetables on your table throughout the year. You can even make a profit from this by learning how to sell fruits and vegetables online. You need to be willing to get your hands dirty. To help you start your gardening journey, we put together a list of vegetables every beginner can tackle. In the end, you will know where to begin and feel more confident in your abilities.
Radishes Are A Great Place To Start
Radishes are a great place to start for all gardening beginners. They are one of the fastest-growing vegetables and can be versatile in your cooking, whether you want to add them into a salad or your favorite stir fry. You can seed them directly into the ground, and it takes only around a month for them to be ready to harvest. Ideally, you should grow them in full sun. However, they will also do well in the shadier areas of your garden. They are also resistant to most pests and can grow in colder conditions successfully.
Scent Your Home With Garlic 
If you love garlic and want to take advantage of its benefits to your health, you can celebrate as it is pretty easy to grow. However, when buying garlic for your plot, you must ensure it is from a garden center or certified seller. You can also buy organic garlic online from places such as Basaltic Farms. There are many kinds of garlic, and each thrives under different conditions. You need to ensure that your garlic has a long growing season. The vegetable also does not take up much space in the garden and does not take much effort to have a good crop.
Tomatoes Do Not Need To Be Difficult To Grow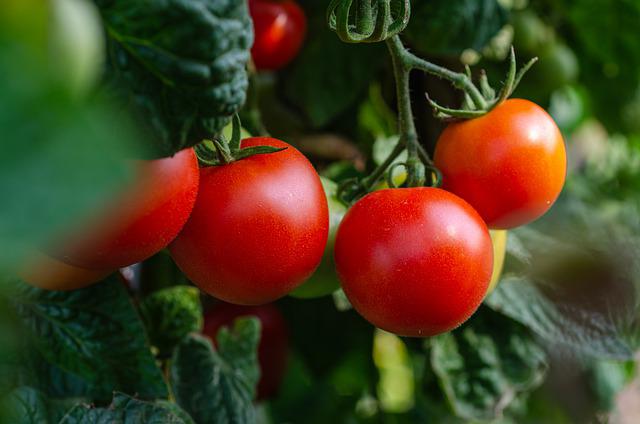 Tomatoes are known to be tricky vegetables to grow. However, it all depends on the type you choose to add to your garden. If you choose to sow a bush variety of tomatoes, you will not need to worry about supporting the plants as they grow taller. You also will not need to remove their side shoots regularly. They are also ideal for those who prefer growing vegetables in containers. You can choose to grow them from the seed or get a young plant from a garden center. Either way, you should plant tomatoes in a sunny place after the risk of frost is gone. Then, you have a good chance of having a successful crop.
Enjoy Early Harvest Of Green Beans 
Green beans are one of the easiest vegetables to grow. You can choose a growing style – if you want a bush or pole, which would save you some space on your plot. Green beans are easy to grow also because they do well even in poor soil. On top of that, they grow very fast. Usually, you should be ready to harvest in around 60 days. Once you harvest the vegetables, you can use the beans in cooking or as a side to your meals. They are full of fiber and will boost your diet with vitamins. And if you cannot utilize all the green beans when they are fresh, you can always freeze them for your future cooking adventures.
Boost Your Health With Kale
Suppose you want to start growing your own vegetables to improve your health and increase your vitamin intake. In that case, kale is the right vegetable to add to your garden. It is easy to grow, and at the same time, it is one of the healthiest vegetables. Kale is tolerant to a wide range of temperatures and is resistant to most pests and diseases. But if you want to grow it outside, it can also survive frost. However, if you are only starting, you can start seeds off in your home or directly in the soil when it is warm outside. If you choose, you can grow kale in pots, too. Soaked with vitamins A, C, and K, it is also often described as a superfood. The vegetables can be a valuable addition to your usual meals and improve your health.
Start Experimenting With Squash
If you want vegetables that are easy to grow but, at the same time, you can have fun experimenting with, squash is an ideal place to start. You can choose from many types, some of which are very easy to grow. For example, spaghetti squash has proven to be one of the most resilient vegetables. The vines may demand a lot of space to spread, but they can get more manageable with pruning. You can pick from many shapes and sizes when it comes to squash. However, all of them are grown straight from the ground.
Have A Productive Harvest Of Beets
Like radishes, beets are some of the easiest vegetables you can grow. Growing beets is more straightforward than growing, for example, carrots. They are also very productive once they start growing. Plant beets in the spring and fall to ensure you have many months of a successful harvest. Beets are also a very efficient kind of vegetable. You can utilize both roots and leaves in salads and make your diet more balanced at the same time.
How To Get Started
Now that you know which vegetables are easy to grow, you might be wondering how you can get started. It is not complicated. First, you can begin only with a small patch of your garden. This way, you will not become overwhelmed and have time to find out if this is something you enjoy doing. You will also have time to truly focus on the vegetables you grow, see what mistakes you make, and learn from them for your future experiments. 
Then, you should pick what you would like to grow. You should choose vegetables that you will use in the kitchen often and that are easy to grow. The next step is to find the right spot for the vegetable garden. Consider factors like sunlight and quick access to a water source. All you need to do after is to plan a layout of vegetables and start planting the vegetables in the soil. And the last step is to enjoy the successful harvest and keep expanding the garden when you feel more adventurous.
Featured Image by jf-gabnor from Pixabay