Top 6 Video Editing Tools for Your Business Blog to Try in 2021
Every business owner should keep pace with the latest trends to stand out and attract new clients. There are a lot of cutting-edge strategies for business promotion, like creating an eCommerce app or video blogging. 
Here comes the question of choosing decent video editing software as you can find many ready-to-use options on the Internet. If you still are not sure why a business blog is key for your marketing strategy, read the article and make your choice. 
Importance of Video Content for a Business Blog 
Today, video content gains popularity at breakneck speed as people spend more time watching short, catchy videos than consuming other types of content. Videos effectively convey a message and are interesting to watch rather than reading long articles. You do not need to possess professional editing skills as there are many tools with user-friendly interfaces. They allow everyone to create stunning video content. 
Businesses usually share on YouTube, Instagram, Twitter, and Facebook their promotion content to attract new clients. These social media are world-famous platforms that unite millions of users, so it is easy to find your target audience using an appropriate marketing strategy. You can also add videos to your blogging website to diversify content and manifest the uniqueness of reaching clients. 
Top Video Editing Tools 
Take a look at the shortlist of best video editing software you can easily find on the web and install on your device or edit videos online. Every business is unique and has its specific needs, but these tools have universal features that will help entrepreneurs create decent content and stand out. 
Clipchamp
This video editor is perfect for creating and editing videos for people with no such experience. Among top video editors, Clipchamp occupies a significant place. It has a straightforward interface and the possibility to edit videos online. It is a great solution for entrepreneurs as the tool has Facebook Video Ad Maker. This software allows you to create stunning video content using customizable templates. It is truly useful as businesses can benefit from templates for Instagram and YouTube promo videos. 
Features
Free editing or premium account option

Easy video editing

Customizable video templates

Professional tools
OpenShot
Choose the OpenShot video software for an unforgettable editing experience. You can install the tool or edit videos online, depending on your needs. It is simple and powerful video editing software with an eye-catchy interface and many editing features. OpenShot allows businesses to edit videos using effects, animations, audio waveforms, and time effects. You can create stunning output with color correction, watermarks, and 3D titles, making your business blog rich in quality video content. It is a safe service that protects your private data. Download the output in different formats and share your videos on different platforms. 
Features
Friendly video editing software

Multilingual platform with 70+ languages

Unlimited tracks

3D animations
Movavi Video Editor
With Movavi Video Editor, entrepreneurs are free to experiment with content and amaze the audience. This video editing software is extremely easy to useю, so you can edit like a pro, even if you have no editing experience. After installing the tool on your computer, you can create videos from any place as no internet connection is required. Help your videos reach your target audience with catchy titles, filters, and transitions. Then, use creative backgrounds for your videos, add picture-in-picture, and stabilize the footage to get the most of the program. With Movavi, you can also set the appropriate aspect ratio to upload videos to different platforms, so it won't matter where your business blog is.
Features
Refined user interface

Special effects

Keyframe animation

Ready-made intros
Shotcut
This open-source platform has plenty of advanced editing features for creating a decent output. Shotcut is great for editing videos for your business blog as it supports many formats and resolutions, generating quality content. You can benefit from numerous video effects like color correction and grading, video wipe transitions, and many filters. Besides, you can experiment with video scopes and use Histogram, RGB Parade, RGB Waveform, and Zoom. So now, you will be able to attract new clients with your creative videos powered by advanced editing features. 
Features
Rich video effects and editing features

Cross-platform & codec independent

Display and monitoring

Hardware support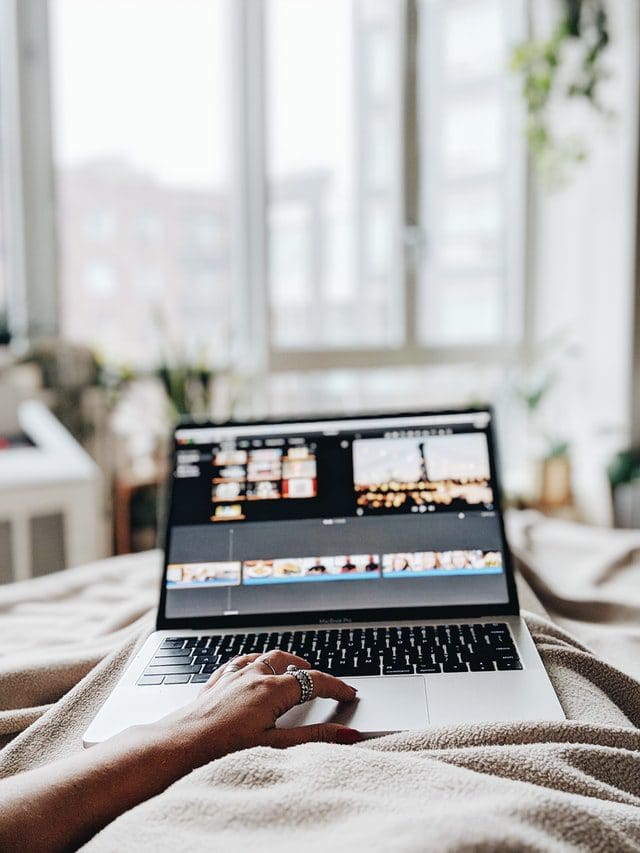 iMovie
Choose iMovie if you're a Mac or Apple owner who strives to create amazing video content. It is perfect for marketers making their first steps in video editing. There you can find advanced editing features displayed in a simple interface for quick editing. Even if you have no editing experience, iMovie allows you to create stunning videos like a pro. Just imagine that now you'll manage to add photos and videos to projects, fade audio, trim, add transitions, and many more. There you will find 13 video filters and 80 smart soundtracks. It is easy to add a broadcast feel to your videos as you have picture-in-picture and split-screen effects at your disposal.
Features
User-friendly interface

Cinema-quality output

High-fidelity filters

Extra-special effects
Magix
Try video editing with Magix and benefit from mind-blowing results. It is easy to create content for your business blog as a variety of transitions, and video effects help produce a unique output. You'll be impressed by 1,500 effects and 650 titles and transitions for varied editing. Users can design split screens and animations to make their content more versatile. There is a rich library of good music and sound effects for creating catchy videos. If you want more advanced editing features, you can buy a premium version. 
Features
Color correction

Automatic shot match

Image stabilization

Layer masks
Conclusion
Now you see that your blog can yield tremendous results for your business with good video editing software. These tools are one of the most popular and efficient options for video marketing strategies. We hope that this article assists you in reaching your target audience and promoting your business. 
Featured Photo by Jakob Owens on Unsplash