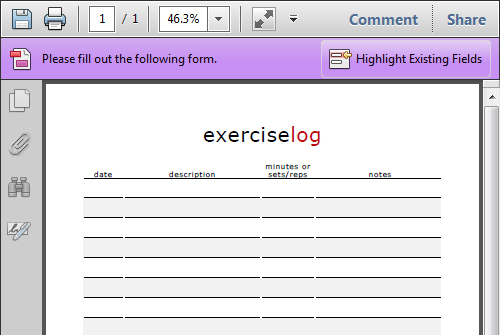 Okay, I'll admit it – I fell off the exercise wagon…again.
Things got so hectic with the book deadline and two weeks of illness that I just couldn't stay on track, but I'm determined to keep trying! Jessica asked me to put together a printable exercise log, and I think it will help me to keep track of my workouts as well. If you're doing aerobics or something similar, you can record one workout per line, or if you're lifting weights or doing a variety of exercises, you can use several lines for the different parts of your workout.
Find the exercises you enjoy doing. Maybe work on a different body part each day. Before you know it you will accomplish your weight goal.
Click here to download or print the free exercise log.
The complete set includes all printables published to date, organized by folder within a single download. It also includes free monthly email updates with any new or updated printables in a single download as well.
Featured Image by Steve Buissinne from Pixabay