The following post is from Linsey of Wise Bread.com, Lille Punkin' and The Freelance Farmer: Traveling with Tykes: 5 Money-Saving Strategies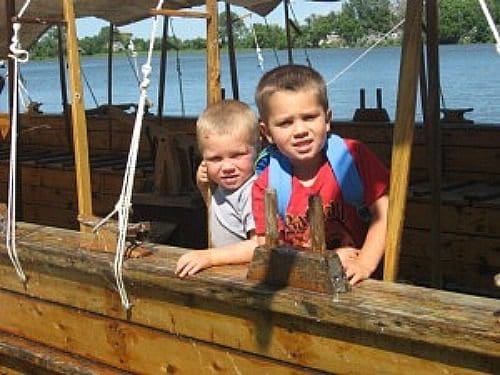 Money-Saving Strategies
My life as a freelancer has me scheduled to take no less than five trips for business this year, leaving me with an empty hole during the days I have to leave my small children behind. I have chosen to take them with me on at least one haul, skipping TSA lines and yellow cabs instead of infant seats and frequent potty breaks.
If you also choose to take your children along, we've employed five money-saving strategies to help stretch that travel dollar.
1. Buy Cheap and Ahead of Time
There are certain travel "staples" that every family needs; sunscreen, snacks, coolers, and umbrellas top the list, but they don't have to break the budget.
We comb the dollar stores weeks in advance for most items or check out these other cheap places to buy travel supplies for additional gear (including sunglasses, specialty items, and rugged outdoor necessities.)
2. Teach "Taking Turns"
Long car rides can be excruciating. You could buy each kid their own entertainment items for passing the time. If you are like our large family, implement a strict "you must share" rule for the more prized possessions.
My daughter must allow her younger brothers access to her DS, the younger kids can share their coveted scented markers between them, and the DVD player screens can live upfront for 500 miles and in the back for the next 500. No one has complete ownership of anything for this trip only.
3. Refer to "Insider" Tips
Our large family can no longer fit comfortably (or legally) in one standard 2 Queen Bed motel room. That's where sites like SixSuit Travel come in handy. This site only lists hotels with at least one room designed to fit a minimum of 6 people and up to 8 in some cases!
You no longer have to call hotel after hotel to get the info you need on how many can squeeze into that queen suite. They've done all the looking for you, saving you the hassle and money of having to buy two adjoining rooms each time you check in to a new town.
4. Practice "Off Scheduling"
You could eat at noon or drive during 9-5, but it will cost you! Get into the habit of practicing some "off-schedule" activities. This will ensure that you aren't eating, driving, or playing when the rest of the world is.
You'll avoid traffic, get special pricing on "early bird" dinners, and even enjoy some weekday morning discounts at the museums, parks, and tourist traps you want to enjoy with your kids. It pays to be different in the game of traveling with kiddos.
5. Stick to the Plan
I realize that carting around a handful of little ones can demand that you be a little loose with your schedule. Things do happen. However, it's important to remember that the further you stray from your original plan, the more you may pay when it's all said and done.
Need to stop off for an impromptu snack? It'll cost you. Too tired to drive to the next city and forced to stay in a hotel that wasn't prepaid? It'll cost you. Unsure of whether to turn left or right, causing you to turn around for directions? It'll cost you. (You get my drift.)
I doubt I'll ever pay the dough to take all five of my kids and my dear hubby for a week at Disney Resorts. Our kind of vacation usually incorporates business plans with a few sunny stops along the way. What's important is that we explore, laugh, and enjoy each other's company. Keeping costs down ensures that we have many more of these busy, crazy adventures ahead.
What money-saving tips do you use to show your family the world on a budget?
Linsey Knerl is a homeschooling mom of 5, the Community Manager for Wise Bread.com, and a freelance blogger and writer. She co-authored the recent 10,001 Ways to Live Large on a Small Budget,. You can read more about her at Lille Punkin' and 1099 Mom.