Frameless armchairs are made of cotton, leather, fur, and other materials in all possible colors. Thanks to the variety of covers, the pear chair will be an excellent solution in any interior.
Oxford armchair
Oxford is a dense fabric commonly used in jackets and raincoats. The main advantages of this material are practicality and water resistance, which means that an oxford bean bag chair is ideal for use on the street, balcony, or terrace. However, this fabric is quite tough and may not be very pleasant to touch on exposed areas of the body – keep this in mind if you have sensitive skin.
Cotton models
Natural, eco-friendly, comfortable cotton is a great option for a pear chair in a nursery: in addition to being hypoallergenic, this material is also incredibly easy to clean. The cotton model can be either plain or print that will become an unusual accent in your room.
Leather and suede options
Faux leather and suede are quite an original choice for a beanbag chair. Bean bags made of this material look unusual on their own, regardless of the color scheme. Such options are perfect for loft-style rooms and harmoniously complement even the classic interior.
Polyester bean bag
The polyester frameless armchair is soft, breathable, and pleasant to the touch: perfect for a bedroom, living room, or relaxation area. This fabric perfectly retains color and does not fade even after several washes: it will be ideal for a bright accent model.
Pear Fur Chair
Since a lot of attention is paid to caring for the environment, faux fur is used for the upholstery of bean bags. It can be no less soft and comfortable than natural, but the design of such models is more diverse: you can find an armchair in any color scheme. A bean bag made of fur will ideally complement a room in the style of romance, Provence, or boho.
Bean bag in the interior of different rooms
The pear chair can be fitted into the interior of any room, regardless of its purpose and style – you just need to choose the right material and color. Ambient Lounge Bean Bags is one of the best options to choose from. They have a wide collection of Bean Bags where you can find the one that suits you best.
Living room
Models with a back are more suitable for the living room – they are simply created for complete relaxation. Choose a solid color in a bright shade to match other textiles in the room (cushions or curtains) to add color accents to the room. For laconic interiors (for example, in Scandinavian style or minimalism), bean bags in neutral colors or a geometric print are suitable. Leather options ideally complement the loft-style.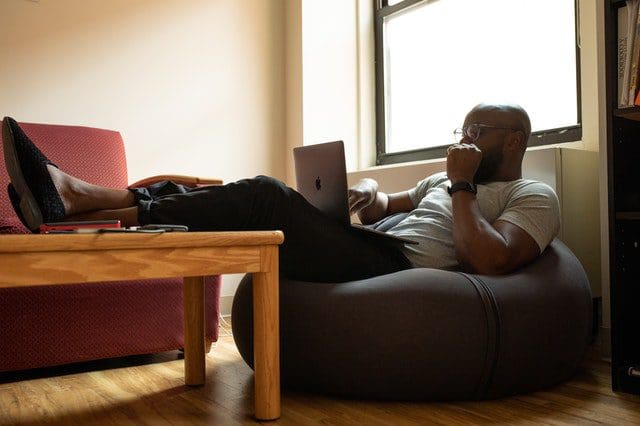 Bedroom
Choosing a pear chair for your bedroom interior prefers soft velvety fabrics – they are perfect for a comfortable rest before bed. A model made of corduroy or velour in light colors will complement a Scandinavian-style bedroom. A bean bag made of faux suede will harmoniously complete an interior in a classic or romantic style, and the fur option is suitable for boho or Provence styles.
Children's room
In the interior of a children's room, it is important to pay attention to the quality of the fabrics: opt for a pear chair made of natural hypoallergenic cotton.
In the room for the baby, choose a chair that will be convenient for you to play with a child – large so that you fit in it, and bright, so that it is interesting for the child. Unusual prints will come in handy here.

A pear-themed chair will perfectly complement a children's room for a teenager: for example, in the shape of a ball, if it is a boy's room. A girl may like a model in pastel colors or fur. In any case, do not forget to take into account the wishes of the child.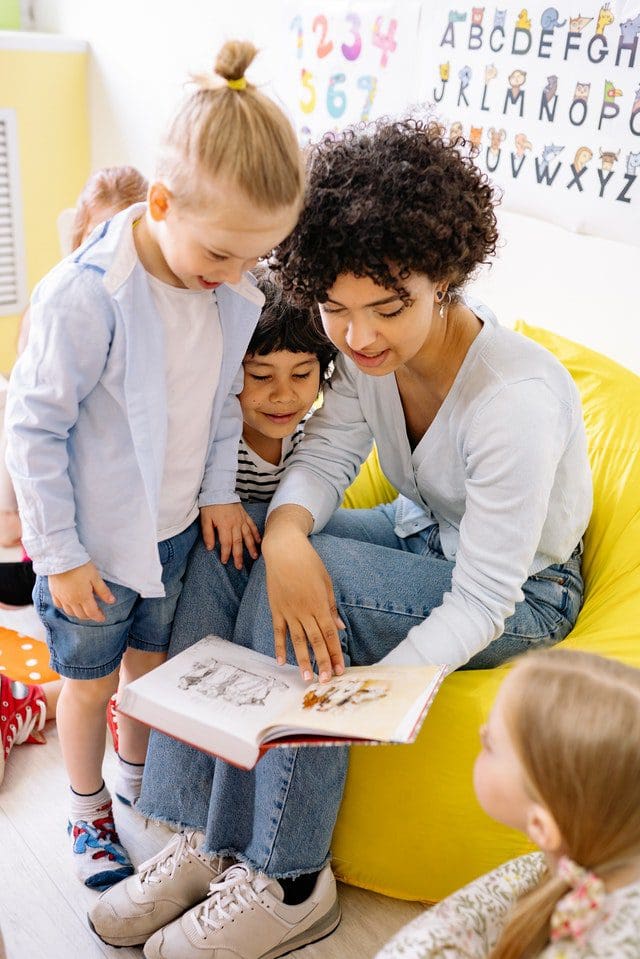 Home cinema
If you are going to have a lot of company in your home theater, it is better to prefer the most compact models: take a closer look at frameless ottoman chairs, which more resemble pillows. Backrest options are fine too. Choose models in different colors that go well with each other: this way, you can create a bright, but at the same time harmonious, room not overloaded with accents.
Study or home workplace
The beanbag chair is intended more for a relaxation area than for a home office: it is difficult to get ready for work in such a model. However, nothing prevents you from placing it next to the work table in the office: it will come in handy when you decide to take a break. So that the chair does not stand out from the general style of the room and does not interfere with concentration, give preference to a model with a smooth texture in a neutral color scheme (for example, from white, gray, or black leather).
Library
The pear chair is great for comfortable reading. Choose a model made of soft material – faux suede, polyester, or velvet: in this bean bag, you will be comfortable sitting with an interesting book for long hours.
Balcony or terrace
For a balcony or terrace, bean bags made of practical materials that do not get wet and are easy to clean are ideal (choose oxford fabric or imitation leather). In this case, you can not be afraid of bad weather and do not bring the chairs into the room if it rains – let them always be a bright accent in the open area of your home.
Suburban area
A pear chair is a great addition to an outdoor picnic in your private home or summer cottage. As on the balcony, it is better to use models made of practical materials that are easy to clean. Vibrant color options or geometric prints will look great against a green lawn, while frameless stone chairs fit perfectly into the natural landscape.
A beanbag chair is a bright and stylish solution for any interior, which can easily replace bulky frame models, but at the same time will not be inferior to them in comfort and versatility!
Featured Photo by Tranmautritam from Pexels