After a tough year, the holidays can seem overwhelming. Preparing for family and friends and decorating the house is the last thing we want to do. But the best way to overcome those grouchy feelings is by embracing the holiday spirit. The joy of giving is not just a trite expression. It truly feels wonderful giving to others. So this year, prepare a spectacular holiday feast and sing corny carols. It will put a smile on your face and on those you love. Read on to learn more ways you can spread holiday cheer.
Decorate Your House
A lovely Christmas tree is just the start. This year take your holiday decorating to the next level by lighting up your home. Nothing says Christmas like bright twinkling lights wrapped around your home. And the ones who will love it the most are the children in your life.
Instead of buying a pre-made wreath, make one from scratch with the kids. Homemade Christmas crafts are much better than store-bought, and gifting them to others is the perfect way to spread holiday cheer. Get your entire family in on the action and watch those blues melt away.
Make a Child Smile
Since 1947, Toys For Tots has been collecting toys for children in need. While you are at the toy store, pick up a few extra toys and donate them to this worthy charity. If you have children, this is an excellent way to teach them about the thrills of giving to others. Let them choose gifts. Kids will also know exactly what other children like. And if you are wondering what Santa should leave under the tree for your own children, pay attention to what your kids pick out for others. More often than not, it is what they want for themselves.
Send a Holiday Gift Baskets
Holiday baskets are versatile and luxurious gifts that instantly put a smile on someone's face, especially when the recipient isn't expecting it. The wonderful assortment of baskets means there is something for everyone. Do the men in your life love craft beer? There is a basket for that, and you can actually buy it online from a website such as Hickory Farms and have it sent directly to them, even if you are in different cities. Are you invited to a holiday gathering and don't know what to bring? A basket filled with gourmet holiday treats is always well received by the host. Want to give a gift to a service provider, like your hairdresser or mail carrier? A gift basket is the perfect gift for someone you want to show appreciation for but may not know them well enough to know what they like. Gift baskets are also great ways to spread holiday cheer in work settings, church groups, and for college students away from home.
Volunteer
Nothing says caring like the gift of time. Time is a valuable commodity, and when you give it selflessly to a worthy cause, it will fill you with joy. There are a wealth of volunteer opportunities in every community. Spend a few hours at your local hospital or nursing home. Feeding the less-fortunate will create a sense of gratitude in your life that is priceless. Involve your family and friends and create a bonding experience none of you will ever forget.
Bake Your Gifts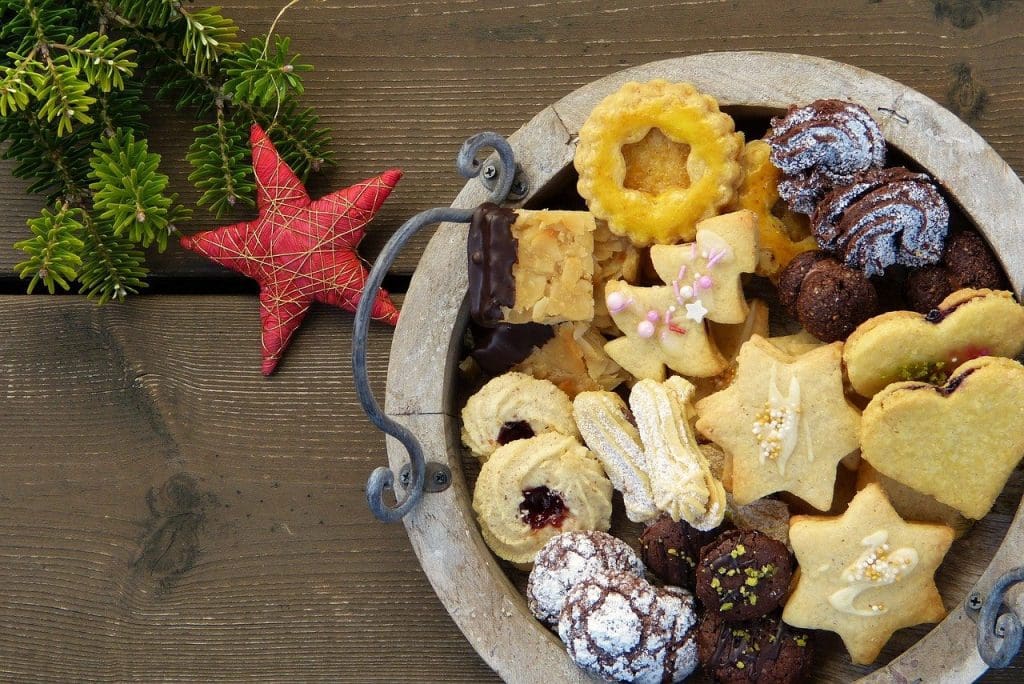 Homemade treats are the perfect way to say thank you to the people who provide services to you and your family. Make a few batches of brownies or cupcakes and wrap them up in little boxes. Then give them to those who make your life a little easier. People like the mailman or the gardener. If you have kids, let them pitch in with the baking. It will teach children to appreciate everyone around them.
Organize a Food Drive
It's painful to think about, but many in your community struggle to afford food during the holidays. Organize your friends and neighbors and create a food drive to benefit your local food pantry. It will truly make a difference in their lives, and you'll become more grateful for the blessings you have in your own.
Make Your Own Christmas Ornaments
Nothing brings a family together more than a shared project. Creating your own holiday decorations and ornaments is an entertaining way to spend time together. String popcorn garlands out of leftover popcorn and fishing line. Make Christmas stars out of old clothespins, glue, and paint. The only limit is your imagination, and the time you spend with your family is priceless.
Featured Image by monicore from Pixabay