The following post is from Lisa of The Pennington Point: 10 Mason Jar Ideas for Valentine's Day
I can't help it.  I have Valentine's Day on the brain.  It just brings me so much joy to decorate my home for my loved ones and show love to those who come for a visit.
And if we're talking love….I have to talk about mason jars.  Why do I love them so much?  Maybe they remind me of my grandmother, or maybe I just want some jelly.  But they make me happy.
So I couldn't stop myself from putting the two things together and finding ways to combine Valentine's Day with mason jars.  It's like the Reese's Peanut Butter cup of February – two great ideas that look great together.
Here are 10 of my new favorites:
1. Pink Puffy Vases
This darling idea is something I can't wait to try!  She used puffy paint, but I've heard hot glue will work too.  I'll be making some of these this weekend.  My life now won't be complete without them.
2. Inspirational Candles
These would work year 'round.  I think I need to make some to put on my piano and play love songs to my children.
3. Doily Jars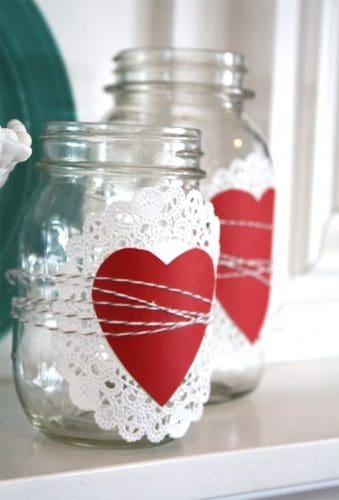 So simple.  So cute.  I can see these as a centerpiece or holding pencils on a teacher's desk.  LOVE.
4. Magic Wands
No self respecting homeschool mom can go through another day without a jar of these pencil wands.  I will wave mine over my kids' heads and sprinkle the magic love dust while they do their math.
5. Candy Votives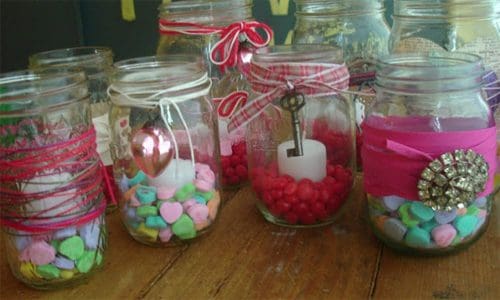 I love using conversation hearts to decorate for Valentine's Day.  These little jars are so cute with their little touches of ribbon, twine, keys and vintage buttons.
6. Spilling Candy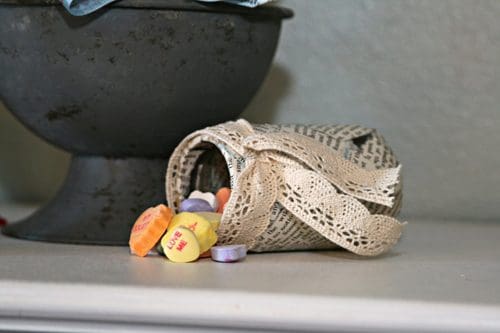 Like I mentioned in my last post, I love a purposely spilled jar.  This jar covered in book pages with a bit of old lace and spilling conversation hearts is so sweet it makes my heart go pitter pat.
7. Baby's Breath
source: The Pennington Point
You can buy some baby's breath at the grocery store, and it will look pretty for weeks.  It's a great way to have fresh flowers without breaking the bank!
8. Glitter Jars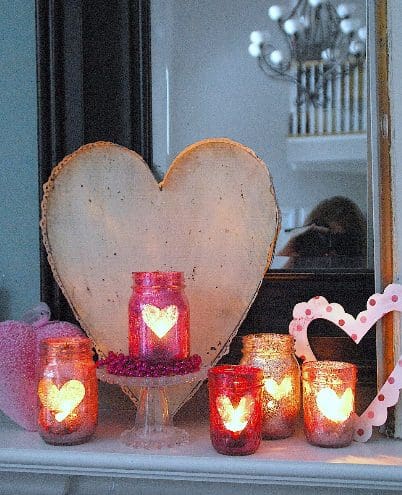 We can't talk about Valentine's Day without bringing a little glitter to the conversation.  These jars look easy to make!
9. Jar Topiary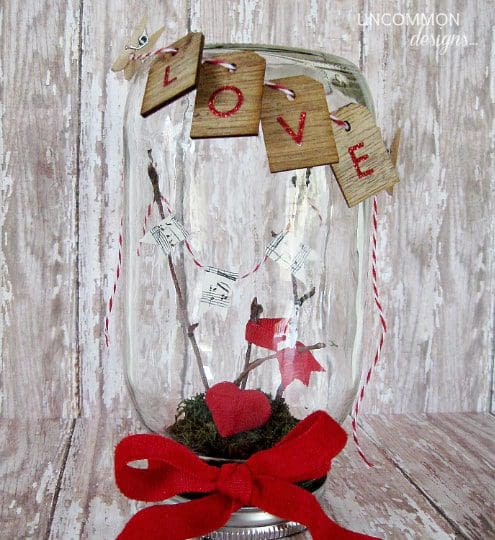 Is it technically a topiary if it's growing a stick?  Oh well….I can't resist the little musical banner inside and the love letters on the top.  Precious!
10. White and Hearts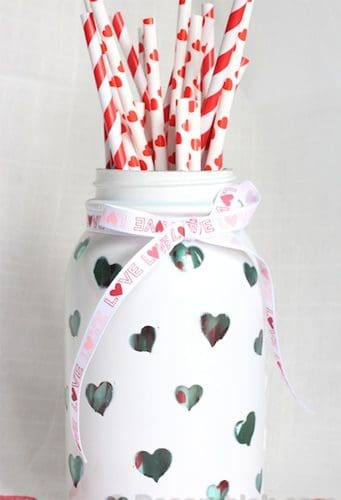 Can you ever have too many hearts?  I think not.
Now I'm all geared up to make a collection of mason jars for Valentine's Day.  Will I keep them or give them as gifts?  It's going to be hard to decide!
Other Projects:
What's your favorite Valentine's Day decoration?

Lisa winds through her little Texas farm house every night, tucking in her nine homeschooled children and turning off lights. Then she scans the rooms & makes a mental list of what she wants to rearrange, restore or paint. Her husband of 26 years hangs on for the ride while she blogs about it over at The Pennington Point.