The following post is from Shaina of Food for My Family and Olmanson Photography: 3-Ingredient Chocolate Peanut Butter Banana Ice Cream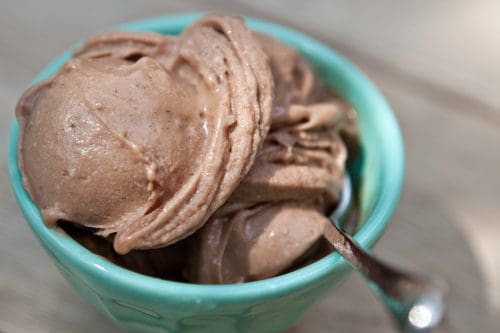 My kids are headed back to school today. While part of me is tremendously excited at the thought of having quiet work time available, I'm sad that summer is coming to a close. I always find myself a bit melancholy thinking of the things I wish we could have done or the activities that just didn't quite get accomplished.
Did you know bananas have seeds?
Still, the beginning of school doesn't have to mean the end of enjoying the nice weather and having fun as a family. I'm determined to show the kids I missed them (even when my brain is screaming "hallelujah for peace") by welcoming them home with a sweet and easy treat that keeps small bellies content until dinner.
Here is a fun and healthy way to enjoy the sweetness of time together:
3-Ingredient Chocolate Peanut Butter Banana Ice Cream
A satisfyingly sweet treat that is perfect for after-school snacks with just three ingredients.
Ingredients
4 ripe bananas, cut into chunks
2 tablespoons peanut butter or nut butter
1 tablespoon chocolate chips
Directions
Cut bananas into 1-2" pieces and freeze until stiff. To make the ice cream, melt the chocolate chips and peanut butter together in a small saucepan, stirring frequently. Remove from heat and allow to cool slightly.
Add the frozen banana chunks to a food processor. Pour the peanut butter and chocolate mixture over the top. Pulse and blend until smooth. Serve immediately.
Notes
These can be made ahead and refrozen. It will lose some of the soft-serve texture, but it is still soft and able to be scooped.
Check out these other healthy snacks for the family.
What after-school snacks do you serve up for the kids when they come running off the bus?
Shaina Olmanson is the freelance writer, photographer, and home cook behind Food for My Family. Cooking daily with and for her four kids and husband, Ole, drives her desire to inspire other families to do the same. Shaina is also the author of Desserts in Jars and regularly contributes to various online sites and traditional print magazines.