Every homeowner wants to make his home look stunning and appealing every moment. For that purpose, he spares a considerable amount of money and is ready to invest his time and creative skills. A well-organized and neat home is the mirror image of the homeowner. Enhancing the whole aesthetic of the house is not the only purpose. Your residences should also be functional and organized. In the contemporary age, when people spend most of their time at homes busy in their remote jobs, we want to make our space relaxing and comfy at any rate. When we want to step ahead for interior decoration, several décor ideas confuse us. Interior decoration is an ongoing trend, and there is the hottest discussion on it on the internet platforms. 
We can assess the significance of home decoration because it has become an independent profession and the most creative field that people love to adopt. Decorating one's home is not that easy job. It requires knowledge, creativity, and skills to transform a dull and uninviting space into an appealing and fascinating area. Tons of design ideas lurk in our minds, but we opt for those that best reflect our tastes and meet our functional requirements. Out of millions of decorative plans, we will share a few decorative ideas that will make your home look unique and unforgettable. Must adorn these four places for the timeless fashion statement in your home. Those four home sections are as follows:
Living Room

 Bedroom

Dining Room

 Hallway
Let's deck them out one by one.
Living Room
When it comes to embellishing the home, the living room is every homeowners' prime choice. Why do we decorate it on a priority basis? It is where we get together with our family daily and with our guests and friends occasionally. We leave this place only when we want to sleep. This area tolerates high foot traffic, so there are several chances for the space to turn untidy and disorganized. Such a high-traffic area should bear the most durable and timeless decorative pieces that may fit well with any future design idea. Often, we overlook lighting when embellishing our home. We must keep in view that such valuable items play a dual role. They serve as functional and decorative objects. 
For a trendy and less expensive decoration, changing the lighting set is a perfect option. Don't shy away from installing large lamps to make a bold style statement in your living space. Never pick a too big decorative element if the room is small. Buy the illuminating accessories that may create a handsome balance and please your eyes. Don't underestimate the power of colors when you plan to adorn your living room. If the room paint is relatively fresh and the room walls present perfect décor, go for other tools that sprinkle colors. 
Yes, those colorful tools are the living room rugs. By choosing an appropriate area carpet for your drawing-room, you can create a relaxing ambiance, muffing the noise and providing comfort. The stylish and gorgeous colors of your floor rug are the best option to hide the floor imperfections and express your creative talents. The floor mats create a healthful, spacious environment by removing any unnecessary elements from the scene. The charming designs, soft textures, and beautiful hues of the carpet tie up other room details and maintain the timeless interior décor!
Bedroom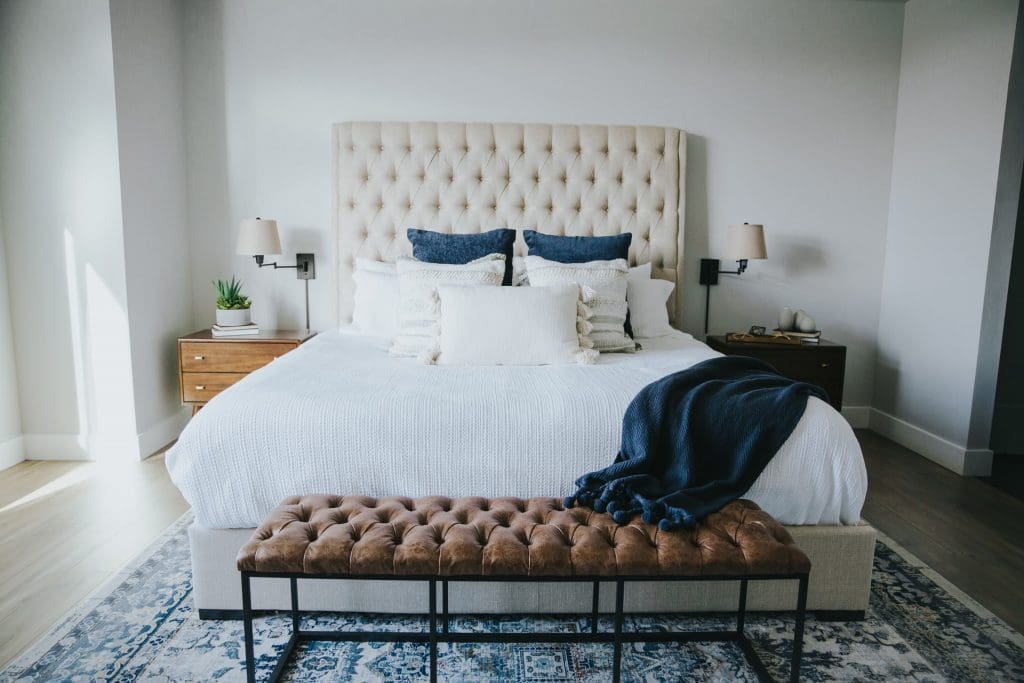 The bedroom is the place that you can decorate according to your taste and preference. Make a little more effort to select the right bedding accessories for the trendy and stylish makeover to your room. The gorgeous and elegant accessories can turn your bedroom atmosphere into welcoming and comfortable, where you can delight in the best sleeping experience. The bedding accessories include bedspreads, pillows, throws, duvets, cushions, and comforts that you should select as per your bedroom tone and interior layout. 
Rest assured that the shades of the bedroom accessories best complement the interior style. Now transform the current appearance of your bedroom into a pleasant and splendor place by establishing the large area rugs. The luxury, room-size floor rugs in opposite color schemes and elegant style patterns further improve the entire feel of your bedroom and ensure an optimal relaxing experience!
Dining Room
The farmhouse style of any space uses clean and decluttered decoration, layered fabrics, neutral or soft hues, and eco-friendly, natural materials to achieve a rustic look with original character. Like modern decorative trends, we witness tons of rustic styles. However, their fundamentals remain the same. Today, we intend to infuse a farmhouse style into our dining, as I consider this space a perfect option to slap this style. 
Take the initial step to touch a farmhouse style by finding a rustic dining table as your dining centerpiece. Place the funky, mismatched chairs around the dining table, and voila, the excellent dining room décor is done. The earthy vibe reflects the rustic style just so fabulously. Give your farmhouse style a finishing touch by adding the area rugs on sale. These floor rugs come in a diverse range of styles and patterns. It will help if you put your hand on the one that best fits the farmhouse style. 
As the name indicates, you can buy the same high-quality, durable, and magnificent rugs from sale at a considerably lower price than the original. Take a floor mat wider than the dining table so that the chairs may not produce noise when you finish eating; the rug should accommodate the chairs around!
Hallway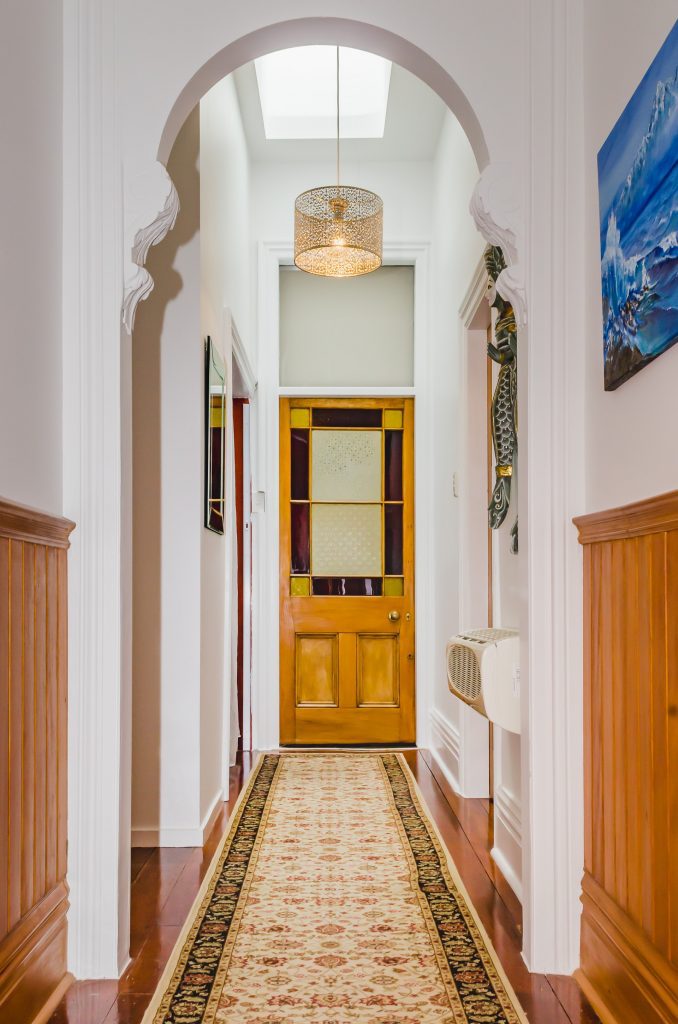 All the interior decorators know that the hallways are significant places as they create the first impression of our home on our guests and friends. Yet we often overlook this space when we adorn our home. Without special care and quirky design, the hallways seem cluttered with toys, shoes, key clusters, hats, school bags, gloves, etc. The conscious homeowners today don't ignore this space and embellish it preferably. 
It's not a difficult job to jazz up the hallway. It also needs a minimal budget to deck out this space. Cleanliness is the first remedy to make your hallway welcoming and graceful. Get a wooden shelf built in the wall to place some toys, books, and decorative objects. Reserve its one cabinet to keep car keys, hats, and gloves. Other essential furniture elements include a bench with built-in storage drawers and two cushioned chairs around. Illuminate your hallway with a big mirror on the wall. Also, hang a large painting opposite the mirror wall and complement your hallway's décor. 
If budget is not the issue, place a beautiful runner rug on the passage and make the space inviting and inspirational. Only a few elements together design your hallway and create a soothing and luxury statement!
Featured Photo by Science in HD on Unsplash