Luxury watches are highly sought-after pieces because they are exceptional, highly functional, and premium items. Watch aficionados and others who can afford them; give a great deal of interest to the craftsmanship, specifications, and style of luxury timepieces. Over the years, they have become a reliable tool for anyone's endeavor.
They transformed into a symbol of one's success and passion. As the demand for these items rises, counterfeiting of goods also becomes rampant. So, if you plan to indulge yourself with such an item for the first time or give it to someone else, below are the things you should consider. 
What luxury watch should I buy? 
Hublot is one of the best luxury watch brands of today. Hublot Big Bang is its flagship model. This watch has successfully placed itself as a contemporary icon in the watchmaking industry. Its name Big Bang speaks of the innovations that come with every piece. This flagship model carries a lifestyle and one's self-expression. If you are searching for a modern watch with all the technical and aesthetic innovation – Hublot Big Bang is a great purchase. 
What to Check for When Buying a Luxury Watch? 
At first glance, you may not notice the differences between a genuine and a replica luxury watch like a Hublot Big Bang. However, remember that there are a few ways to prevent yourself from purchasing such an item.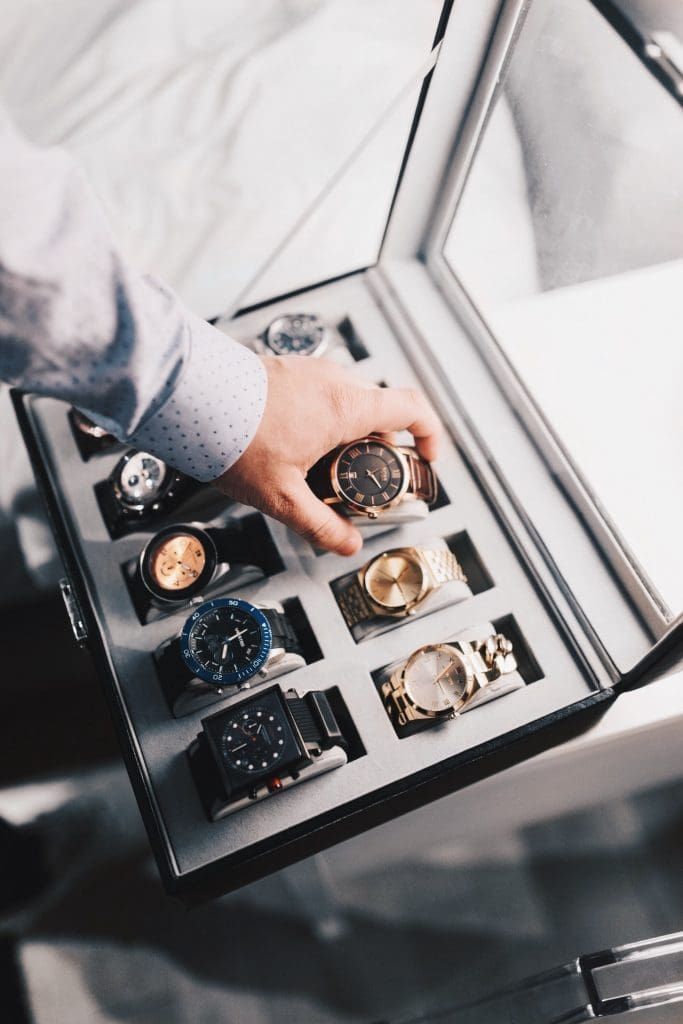 Take a closer and discerning look. Assess the quality of the watch
A quality check will enable you to see immediate flaws such as misaligned printing on the dial, strap, and case back, poorly printed markings, misspellings, and other possible flaws. Generally speaking, you can notice the flaws through your keen observation. Your knowledge about the Hublot Big Bang would be a great help. 
Read, read and read
Give attention to the dial, and you should find "Swiss Made" at the bottom of it. At the same time, examine the markings on the movement. Hublot Geneve should be engraved and not printed. Moreover, it should be spelled correctly. Hublot is among the best luxury watch brands, and such errors should not be present in the watch. 
Check at the brand details 
Every brand has its signature details; Hublot screws have an H-shaped. The shape of the screw is the same for all models. Moreover, check if all the screws on the front of your watch have Hublot's signature screw. 
Next, check on the date display. You should see that number is placed precisely in the middle, and the box should have a curved left side. Move on with the logo on the clasp; it is never printed or etched. The Hublot logo is engraved. 
Now, focus on the "Hublot Geneve'' – the authentic watch has an engraved label. These flaws, such as incorrect spacing with the middle "E" in Geneve, font is too thick, and the rotor hub has a sawtooth shape- may appear on the replica or imitation. 
Look at the minute and the hour hand. 
Check the hands of your watch. The pointer of both hands should have a much thicker edge as compared to the imitation. Also, the tip of the hands should have a 3D look.
Know the value of your watch
To determine the authenticity and value of a particular watch, you may do the following: 
If you already purchased a piece, it is best to check its authenticity if you have an expert. Make a trusted and watch expert check on your timepiece to determine its value. An expert can immediately tell if what you have is a genuine piece or not. 

Research for the model you like to buy if you plan to get a Hublot Big Bang. Compare prices on the market. Generally speaking, if a seller offers a relatively low price for a brand new watch, chances are it's a fake or an imitation.  

If you buy a pre-owned item, you must consider the condition, age, availability, and overall market demand. All of these will affect the watch's price. Nonetheless, you must be vigilant if the price is inappropriate for the watch's condition. 

Buy only from a trusted store or seller like thewatchcompany.com. 
Suppose any or many of these flaws are present in a watch- then it's a fake. Take note of these five things you look for in a Hublot Big Bang and would not be prone to buying a fake one. 
Conclusion
As luxury watches gained popularity, more imitations or fake versions are produced. Yes, they are more affordable- actually cheap. Often, they may look exactly like the authentic watch. But with a careful look, you can quickly determine the differences. Thus, saving you from purchasing an imitation and wasting your money. We hope these tips help you out in things you should look for in a Hublot Big Bang watch.
Featured Image by Johnson watch on flickr.com