Kids' clothing shopping can be challenging and expensive, especially with a tight budget. Your kids should look just as stylish as the next-door family's child, but sometimes financial constraints can resist doing so.
Undoubtedly, children grow fast in a blink of an eye, and their once fitted clothes are now tight and not their size anymore. That leads to parents shopping for a new wardrobe for their kids every new season. Going on a shopping spree and looking at cute jackets, dresses, shirts, etc., for your little one is hard to resist. However, keeping the tight budget in mind, those designer clothes get bound to blow the budget out of the water. 
5 Best Tips to Shop Kids Clothing on a Budget
The chances may seem limited for dressing your kid well, but it is never impossible. Shopping for kids' clothes and the prices of those tiny clothes are no joke, and sometimes you can not help but buy. Consumer psychology is an advantage played by brands- that's why parents should be smart about buying. You can shop for high-quality clothing for your child while staying within your set budget. Here are some tips on how to go about it:
1. Buy Clothes Bigger Than Their Size
Bigger size clothing is a very clever trick that all parents use. Children sprout their height quickly, so it is better to buy clothes a size or two larger. Doing so will save you from buying a new clothing rack next year. 
2. Thrifting/ Sales at Garages
Thrift shopping is a popular and one of the most effective method trends these days. Simply put, it means going shopping at a flea market or thrift store, where you'll find slightly used items at discounted rates. 
Likewise, garages are the best place to keep in mind if you want to purchase good quality clothes for a very cheap rate. Prices could range from 25 cents to a dollar, making it a heaven for budget-conscious people. All it takes is a little energy to find the right stuff.
People are changing routes to thrift shops, and so should you, too. You will find many inexpensive racks and racks of kids' clothing, which may tempt you to buy everything. As a result, it is crucial to make a list of clothes you wish to buy- and take the money accordingly.
3. Seasonal Discounts 
Seasonal price cuts on clothing items usually happen during the end of a season, so keep an eye out. Your local department stores, such as Walmart and Target, are great places to find some incredible bargains. Another option is to purchase children's clothing from retail stores with price tags half the original price.  
The year-end sales will be your friend helping you in stocking for upcoming seasons. To buy summer clothes, visit stores between July and August, whereas January and February are the best time to buy kids winter jackets in preparation for the future winter season. These discount sales will be great in helping you store up the clothes. Hence, you won't have to buy more stocks next year or in the new season.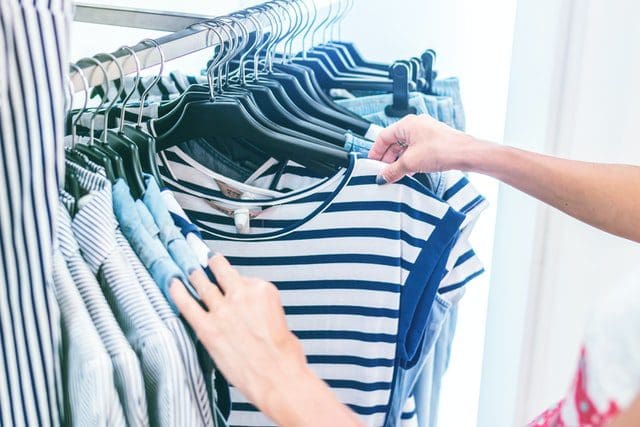 4. Add your Favorite Clothing to the Wish list
You won't find people lurking in clothes shops anymore since most of the work gets done via the internet. Whenever you open your favorite online clothing stores websites and see the clothing items you wish to buy, add them to your wish list.  So, next time when you visit the site and see an ongoing sale, all you have to do is click the check out button rather than snooping at the website and increasing the budget. 
5. Coupon Codes
Many stores offer coupon codes for a good amount of discount. If you prefer shopping online, register your account and get hold of coupon codes to get special discounts and offers. Through these, you can shop for fancy clothes on a budget. 
Conclusion
Do not let the tight budget be a factor in compromising good things for your kids. It is pretty shocking how kids' clothes can cost more than adults, but these simple steps will make it easy for you to remain on a budget and see your kid wearing new clothes. 
Track your spending by downloading our spending worksheet.
Happy Shopping!
If you like this article, share it with others to help them make the right choice. 
Featured Image by StockSnap from Pixabay