The following post is from Christina of Northern Cheapskate: 45 Ways to Save Money In Every Area of Your Home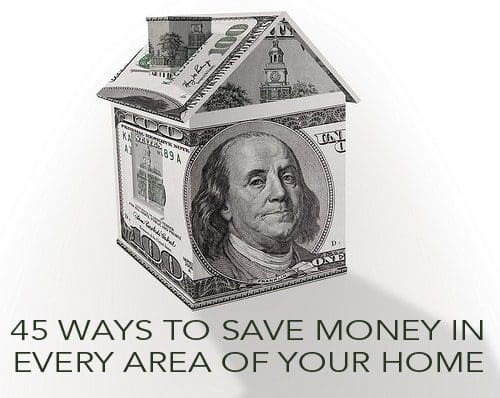 When money gets tight, it's time to take a close look at places you can save money.  Check out these tips for savings in every room of your home:
Kitchen & Dining Room
Cook from scratch.  When you learn to make your own homemade mixes and other recipes from scratch, you'll find that you save money and eat healthier.   Avoid convenience foods like pre-cut veggies and pasta and rice mixes.  These can be made from home for a fraction of the cost of what you'd pay at the store.
Use coupons, store sales, and mail-in rebates.  Learn how to use coupons to help you get grocery items for free or cheaply.  Shop the sales at your favorite stores and stock up when you get a good price.  Take advantage of mail-in rebates to score products for little to no money.
Keep your pantry stocked.  When you have a full pantry of items you've purchased on sale, you'll never have to worry about rushing to the store for last-minute items – or worse – calling for pizza delivery because you don't have anything for dinner.
Plan a menu.  Keep track of what you have in your pantry and freezer and plan your dinner menus each week and plan your meals around what you have.  You'll be far less tempted to grab food at the drive-thru if you have a plan for cooking dinner at home.
Use less disposable products.  Use rags instead of paper towels.  Use cloth napkins instead of paper ones.  Use glass jars and other food storage containers instead of disposable plastic bags.  Use your dishes instead of paper plates.  Use microfiber cloths or a scrap of flannel instead of disposable Swiffer pads to clean your floors.
Use gadgets instead of your stove.  A microwave oven or a slow cooker uses considerably less energy to cook than your stovetop or oven does.
Shop the end-of-season clearance sales for deep discounts on serving dishes, tablecloths, and home décor.
Shop for secondhand items at thrift stores and estate sales.  You can get great deals on cutlery, dishes, saucepans, mixing bowls, bread machines, and more.
Make your own homemade cleaning solutions.
Make homemade dishwasher detergent and only run your dishwasher when it's full.  If your utility company offers lower rates at off-peak times (like late in the evening), run your dishwasher at those times.
Living Room/Family Room
Cut the cable.  You can significantly reduce your household expenses by canceling cable.  For much less money you can stream videos online through Netflix, Hulu Plus, Amazon or iTunes.  If you live near a major city, you should be able to access dozens of local digital television channels for free with an HDTV.  You can also borrow books and movies from the library for free.
Buy furniture secondhand.  Save money by shopping at thrift stores, estate sales, garage sales, consignment shops, and Craigslist for great deals on furniture.  Put the word out to family and friends when you are looking for a particular item, and someone just might give you it for free to get the clutter out of their home.
Invest in insulating drapes.  Insulated drapes will hold the heat in during the cold winter months and keep the heat out during the summer.
Give old furniture a new look.  New furniture can be incredibly expensive.  If your living room décor is looking a bit tired, give it a new look with homemade slipcovers, or a coat of paint.
Vacuum frequently.  If you think furniture is expensive, try replacing your carpeting!  Vacuuming regularly helps keep your carpet new and prevents dirt from deteriorating your carpet.   You'll also be able to deal with spots on your carpet before they're set in for life.
Use homemade fabric refresher.  Don't spend money on expensive sprays and air fresheners.  Make your own homemade fabric refresher and get rid of those odors.
Exercise.  Skip the expensive gym membership and exercise in your living room instead.  Download free exercise routines online or borrow a workout DVD from the library.  You don't need fancy equipment to get a good workout.  Another bonus – if you're warmed up from exercising, you can turn your thermostat down!
Switch your lightbulbs.  You can trim your electric bill by swapping incandescent light bulbs for compact fluorescent light bulbs.
Bedrooms
Turn down the thermostat when you're sleeping.  For every 2 degrees you lower the thermostat, you can save 10 percent or more on your heating bill.  Put on some warm pajamas and put flannel sheets on the bed, and you won't notice the change in temperature.
Turn your mattress regularly.  Extend the life of your mattress by regularly turning it.  Some mattresses can be turned and flipped – others only turned – so check with your manufacturer.
Get rid of the TV in your bedroom.  Watching television in bed will keep you from getting a good night's sleep. Unplugging is good for your wallet (and quite possibly your marriage), so eliminate the electronic devices from your bedroom.
Set your alarm.  The early bird catches the worm!  Start your day off on the right foot by waking up early and tackling your to-do list.
Clean out your closets.  Clutter is bad for your budget. Don't waste money on clothing you don't need.  Clean out your closet and keep only the things that make you feel good. Make a list of the items you'd like to purchase, and then sell or donate the rest.
Bathroom
Make your own bathroom cleaners.  You can save a ton of money by learning how to make your own.
Invest in a plunger and a snake. Avoid using chemical treatments or paying for a plumber when you invest in these two handy tools.
Use cleaning rags instead of disposable wipes.  Don't waste money on expensive antibacterial wipes.  Use reusable rags and homemade disinfectants to clean up.
Never pay full price for health and beauty products.  Use coupons, watch the sales (especially at drugstores), and take advantage of mail-in rebates to get everything from toothpaste to shampoo for free.  You can also make your own DIY hair treatments for pennies.
Use generic over-the-counter medications.  You're getting the same product as the name brand without the price tag.
Brush and floss daily. The health of your teeth and gums can affect your entire body.  Keep yourself healthy by brushing your teeth at least twice a day and flossing daily.  You'll trim your dentist bills and keep the rest of you healthy, too.
Home Office
Learn ways to save on the cost of printing.  Printer ink and paper is expensive, so think before you print, adjust your printer settings to use less ink, and print on both sides of the paper. 
Recycle papers instead of tossing them.  You'll save on your trash bill and be doing something good for the environment.
Cash for ink cartridges.  Some office supply stores will give you cash or store credit when you recycle your ink cartridges at their stores.  Or check with your child's school – some schools raise funds by collecting used ink cartridges.  Your trash might just be a treasure.
Change your computer settings to shut down when not in use.  Most computers have energy-saving settings that will help you save on your utility bill.  You can program your computer to go into energy-saving sleep mode after a certain period of inactivity, or you can program it to shut down completely after a certain time.
Laundry Room
Take care of your clothes. Catch stains before they're set.  Make repairs to ripped clothing and replace buttons.  You'll extend the life of your wardrobe, which will save you money.
Wash clothes in cold water.  Clothes get just as clean washed in cold water, and it uses a fraction of the energy.
Wash full loads of laundry.  Small loads are inefficient.
Make your own laundry products.  Save money by making your own laundry soap. If you must use your dryer, learn to make DIY dryer sheets.  Make your own homemade wrinkle releaser.
Use less laundry detergent.  You can usually use 1/3 to 1/2 less laundry detergent than what is recommended on the bottle and still get your clothes clean.
Wash clothes less often.  Not every item of clothing has to be washed every time it's worn.  Make your clothing last longer and save on your utility costs by re-wearing things like sweaters or jeans.
Line-dry your clothes.  Dryers use an incredible amount of energy.  Put your clothes on a clothesline or drying rack instead and reap the savings.
 Garage
Keep your vehicles running right.  Learn to check fluid levels and change your own oil.  Learn to check tire pressure.
Clean your car inside and out.  Less clutter inside means less wear and tear on your vehicle's carpet and upholstery.  Keeping your car clean on the outside will help you prevent rust and allow you to repair any dings and scratches before they become a bigger problem.
Leave the car in the garage. Walk or ride a bike instead.  You'll do good things for your heart and your budget.
Organize your space.  Keep your garage organized and clutter-free so that you can find tools and spare parts when you need them.  A well-organized garage makes DIY projects even easier.
Use your garage to make money.  Follow the strategies for how to have a successful garage sale and get rid of the clutter while making cash.
These are just a few of the ways you can save time and money around your house.
What are some ways you save money in your home?

Christina Brown is the creator of Northern Cheapskate, a blog dedicated to frugal living through coupons, freebies, and money-saving ideas. She lives in the rural north woods of Minnesota where she clips coupons, pinches pennies, and chases her three boys (a 7-year-old and twin 5-year-olds) as a stay-at-home mom.