Los Angeles is a thrilling place to visit at any point during the year. The air is warm and filled with energy nearly year-round, offering the possibility of meeting one of your favorite celebrities. The home of the famous Los Angeles is the perfect place to vacation and experience some of the most well-known attractions in the nation. Read below to discover attractions that are a necessity on many people's bucket list. 
Universal Studios-
Visiting Universal Studios is a top priority for many individuals and families looking for a day filled with fun. It is one of the top oldest and most used Hollywood studios that are still in operation. Not only can you take tours to learn more about this rich history, but you can also enjoy the theme park featuring thrilling rides and motion simulators. 
The Getty Center-
If you enjoy appreciating art as well as natural beauty, this is the place to stop. The Getty Center is a popular museum that is known for European arts completed before the 1900s. Not only can you enjoy the inner beauty of the elegant art inside, but you can also stroll outside to bask in the well-kept garden. While there are multiple gardens to enjoy, the most popular one is the Central Garden, which hosts a maze of blooming flowers. 
Hollywood Sign-
Taking a closer look at the Hollywood sign is a staple for any successful Los Angeles visit. You cannot get up close and touch the sign, but you can go to Griffith Park to get the best view. The Griffith Observatory hike has the perfect advantage for you to appreciate the Hollywood sign without trespassing on the actual area the sign is located.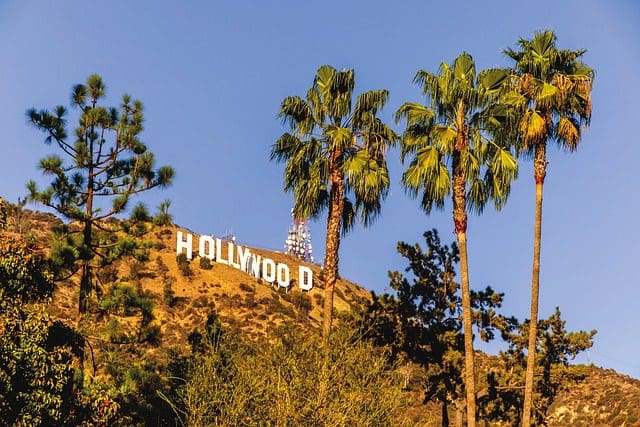 The Grove-
No trip is complete without a shopping spree. The Grove is an outdoor mall that has elegant fountains and trees lined around the area with trolleys that will get you from store to store. 
Sunset Boulevard- 
On Sunset Boulevard, you will find the thriving Sunset Strip. Here you will be faced with an abundance of restaurants, shopping, nightclubs, and the overwhelming chance to meet celebrities. Some of the best places to visit on the strip are The Comedy Store, The Viper Room, and The Roxy Theatre. If you are looking to dance the night away or hop from club to club, this is the place to be. 
Zuma Beach-
Relaxing by the water is a great way to de-stress from the busy city. Whether you are sitting by the water or body surfing in the waves, you can be sure that Zuma Beach has some of the best water conditions in Los Angeles county. Not only does this beach offer a great location to perfect your body surfing, but you can also witness gray whales make their winter migration. 
Walt Disney Concert Hall-
Music is arguably one of the things that can bring most people together. Walt Disney Concert Hall is a place to gather to enjoy some of the best classical, contemporary, jazz, and world music. This performance hall came to be when Lillian Disney sought to honor her late husband and his love for the arts, Walt Disney. Designed by Frank Gehry, Walt Disney Concert Hall has the reputation of being one of the most elegant and sophisticated concert halls in existence. 
The Broad-
Taking a tour of The Broad should be on anyone's itinerary. This museum has an impressive collection of contemporary art with a range from the 1950s to the present day. The Broad received its name as Eli and Edythe Broad funded the $140 million to build the museum. Their generosity seems to continue as general admission is free, allowing anyone with an interest and love for the arts to enter at no cost and relish in the elegance.
With all of these must-see attractions, you will want to experience as many as possible before your trip is over. Los Angeles is a large and busy city, making it easy for those that don't live there to get lost. Not only that, but the traffic can be at a near standstill for hours! Because of this, you may want to consider finding alternative transportation options as opposed to driving yourself. This will save you time and the stress of navigating through multiple lanes of heavy traffic.
You could use the bus system, but you would have to rely on specific drop-off and pick-up stops. You would also have to ride to each stop until you get to your destination. This can take up a lot of your time, and the stop might not be exactly where you want to go. Using a chauffeur service Los Angeles when you visit can help you save time as a personal driver will get you wherever you need to go at your discretion. Ultimately, this allows you to travel freely and check off every activity on your list without wasting any daylight! 
Featured Image by D Thory from Pixabay