If you want to make your kids happy on vacation and keep them busy for a few days, your best option is a Disneyland trip. The California location is smaller (only two parks here), so it's perfect for smaller kids who may get tired or spooked by the agitation and crowds. Lets explore some fun ideas for the perfect surprise trip to Disneyland. 
Still, there will be many other families there (following the same logic), so you can't say there won't be noise and agitation. But there will also be magical princes and princesses, funny and lovable Disney characters, and lots of other kids to befriend and have fun with. Overall, the atmosphere is very family-friendly so that everyone can have a good time. 
And, to give you a hand with the preparations, here are a few tips to guide you while planning for this trip:
Start Planning Early
Disneyland may be magical, but they won't be able to magically conjure a ticket on a ride or show that's sold out. So it's best to buy tickets ahead if you know your kids want to go on a ride (a must-have, if you want). 
Also, to plan a family trip, you need to consider other aspects such as accommodation, since most visitors spend at least two or three days in the magical kingdom.
Luckily, Disneyland has three hotels on-site that are easy to reach when you feel tired, or the kids want a break. Plus, if you want something a bit more affordable, there are many hotels and resorts you can choose from outside the two parks. 
Check Out the Best Restaurant Options for Your Family Ahead of Time
Yes, you also have to plan for the food! Restaurants and food-serving facilities get so busy during the day that it's impossible to find a table without a prior reservation. Plus, kids can be fussy about food, so it's difficult to know which restaurant to choose. 
Luckily, you can browse the most 'yummy' options at Downtown Disney while still at home. So check the menus and choose the ones that best fit your kid's needs.
Also, prepare for some tantrums since all sorts of culinary temptations surround them, so they may not like what they usually eat at home.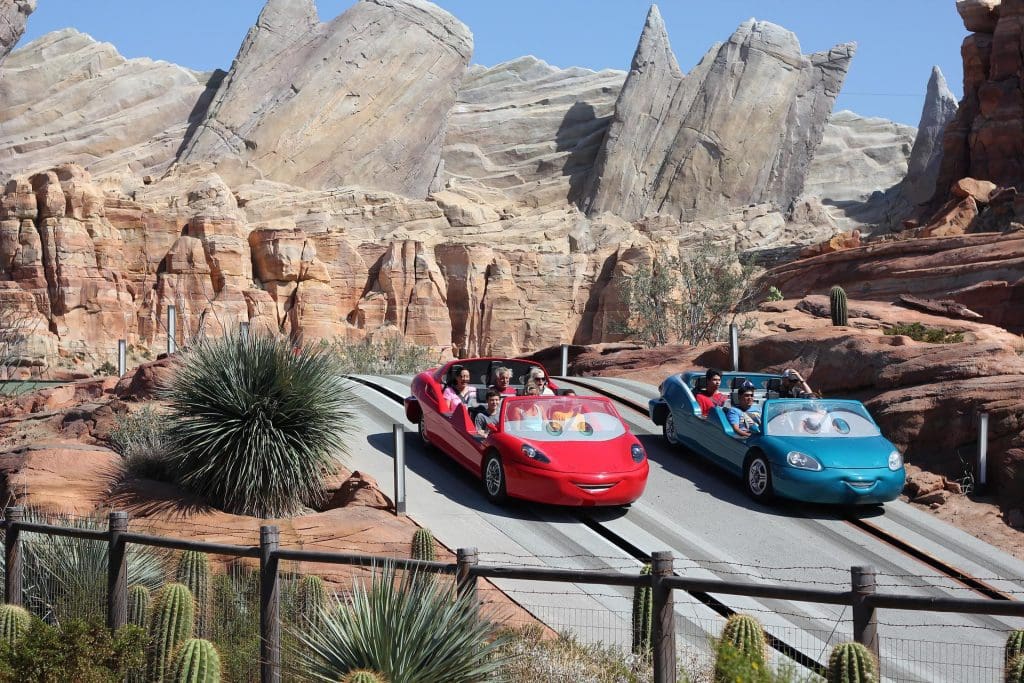 Alternate Between Rides & Indoor Activities
The two parks at Disneyland are still huge, especially for little feet. So you shouldn't pack too many rides or attractions in one day – better to take breaks and admire the view than to run around with tired children!
Also, there is the alternative of combining rides and outdoor activities with indoor performances. The offer is quite diverse, with big attractions that the kids love.
Shows like It's a Small World, Pirates of the Caribbean, or Finding Nemo Submarine Voyage (among others) are always a hit with the little ones while parents can have a bit of rest out of the scorching sun. 
Prepare for a Lot of Merchandise
Kids love the opportunity to meet and become their heroes for a while, but they're also hyped about buying various hats, balloons, gloves, glasses, t-shirts, and even character costumes that catch their eye. 
To avoid turning into a carrying device for the rest of the trip, talk with the staff and ask them to send your shopping bags directly to your hotel. This way, you can enjoy the trip without worrying that your child's favorite hat got lost in all the commotion. 
Key Takeaway for a Trip to Disneyland
The secret to a good Disneyland family trip is good planning (regardless of your kids' age). Make sure to buy the tickets for must-have rides and shows at least a month in advance and book your hotel and restaurants to keep the trip fun and enjoyable.