I love children's books with a passion, but I especially love picture books!
When I first began adding treasuries to our library almost 10 years ago (many of them recommended by Sonlight), I wasn't sure I was a fan. These anthologies took my beloved picture book from a light, easy-to-hold-while-juggling-babies-and-toddlers book to a thing that often required both hands.
But over time, these collections have grown on me, both for the stories I discover that I might not have otherwise and because they put a variety of stories right at my fingertips without creating a precarious pile of individual books. They're great for keeping next to the couch or packing when we travel, and they offer the opportunity to reread our favorites again and again.
We now have more than 20 treasuries, but these 9 are our very favorite:
Note: A few stories are found in more than one of these treasuries, but we don't mind an extra opportunity to read them!

The Lion Storyteller Bedtime Book
This collection features 40 stories from around the world. These stories are short, feel-good stories that are specifically tailored for reading aloud and accompanied by beautiful illustrations. They're sure to usher in sweet dreams, but we enjoy reading them at any time of day!

The 20th-Century Children's Book Treasury
While most of the treasuries on this list have a specific focus, this one offers a wide range of books — from wordless stories to beloved picture books — covering various topics. Discover favorites like Winnie-the-Pooh, Guess How Much I Love You and Alexander & The Terrible, No Good Very Bad Day.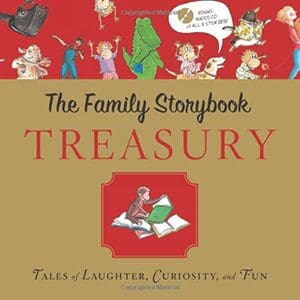 The Family Storybook Treasury with CD
Our third daughter is especially fond of treasuries, and this one is her current favorite with stories like Curious George and the Firefighters, Sheep in a Jeep and The Great Doughnut Parade. And the accompanying CD means she can listen even when I can't read them!

HarperCollins Treasury of Picture Book Classics
If I had to choose one favorite, this one would be among the final contenders. Caps for Sale, Goodnight Moon, Harold & the Purple Crayon, and Crictor are among my favorite stories to read, and we've read these stories repeatedly since our oldest was just a toddler.
James Herriot's Treasury for Children
From James Herriot, the author of All Creatures Great and Small, this collection of children's stories enchants my animal-loving girls. With beautiful illustrations and written dialogue that makes you want to practice your British accent, these fun animal adventures hold everybody's attention.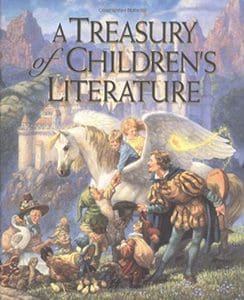 A Treasury of Children's Literature
This treasury is the perfect introduction to the classics, with dozens of rhymes, poems, fables, and stories like The Nutcracker, Peter Pan, Goldilocks and Robert Louis Stevenson's A Child's Garden of Verses.
Make Way for McCloskey
I cannot even put my love for the works of Robert McCloskey into words, but his stories are my favorites, and his illustrations stand on their own as some of the most charming in our library. If I could only have a few books, this would be among them (with the Virginia Lee Burton collection by its side!).
 
A Family Treasury of Little Golden Books
When she was alive, my grandmother would gift each of the girls with a new Little Golden Book for every holiday or birthday, and that collection of gold-spine books is one that we treasure. But rather than continuing to buy individual titles, we love that this treasury includes 46 of the best Little Golden Books all in one place!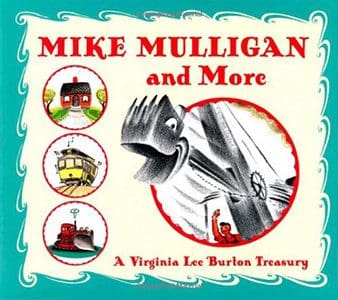 Mike Mulligan and More
This list would not be complete without this collection, and while it's the smallest treasury of the bunch — with only 4 stories — they're stories that every home library needs! I first fell in love with Virginia Lee Burton's The Little House, which reminds me of the little house my grandparent's lived in for more than 50 years in Morningside, MD, but we love all four of these stories. The girls get excited every single time I pull it off the shelf to read!
Okay, your turn: is there a treasury missing from my list? Which is your favorite?