Hosting any party can be a difficult thing to do. There are many things to get your yard ready for a party. Start with getting out or putting away valuables around the house. Purchase, gather, and organize food, drink, and other decorative items. Not to mention entertainment for your guests! Incorporating outdoor lawn games is a popular way to keep your guests entertained at a gathering. However, some outdoor games could potentially temporarily or permanently damage your lawn. Let us take one item off your party to-do list with so many things to plan for and consider for your upcoming party. With the input of a few lawn care specialists, we have put together a list of games that will keep your lawn looking perfect while delighting your guests.
1. Cornhole:
Materials: 2 cornhole-sized boards (2ft x 4 ft); 8 corn-filled bags
Players: 2 teams, 2 or 4 players 
The game of cornhole is relatively simple; it involves two cornhole boards and eight small corn-filled bags (hence where the name "cornhole" comes from!). The two boards should be placed precisely 27 feet apart, front to front. Each player takes turns methodically throwing their bags onto the opposing board, making sure not to overstep the front of the board when throwing. Points are determined by where each bag hits the boards. For example, if a bag thrown by a player goes in the hole of the board, that player earns 3 points. If the bag lands anywhere on the board without touching the ground, that player earns 1 point. Each player throws their number of bags until the final goal. The game's goal is to defeat the opposing team by throwing your team's bags into the opposite cornhole board and obtaining 21 or more points.
2. Horseshoes:
Materials: lawn stake; at least three horseshoes
Players: 1 or more players 
Horseshoes is another relatively simple lawn game, similar to cornhole. However, instead of throwing corn-filled bags at boards, each player's goal is to throw a horseshoe at a stake placed into the ground. The two stakes, otherwise known as "ringers," are placed about 40 feet apart. Each player takes their turn throwing horseshoes at the ringer, earning 3 points if the horseshoe completely encircles it, 2 points if the horseshoe leans on the ringer, and 1 point for the person whose horseshoe lands nearest the ringer. There is no set number to obtain to win, so feel free to set your number goal! 
Note: Purchase a rubber horseshoe set with a soft design instead of metal. It will be easier for children to throw and will not damage your lawn. 
3. Lawn Bowling: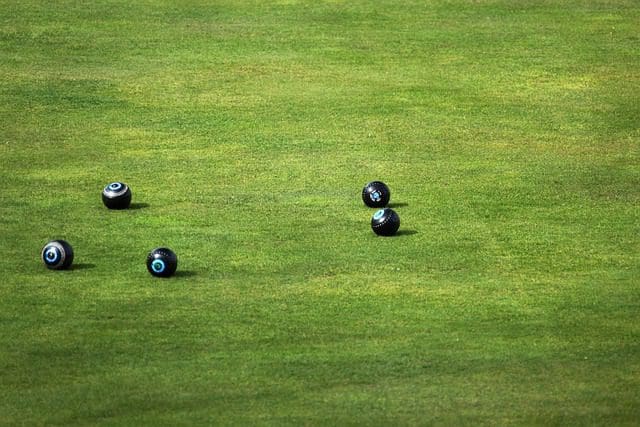 Materials: bowling pins, bowling ball (or other heavy or large ball)
Players: 1 or more players
Last, lawn bowling is another simple yet interactive game that will not damage your hard-earned lawn. Lawn bowling sets are sold online and in any sports store and involve a set of inflatable pins and a large bowling ball. The game's goal is the same as regular bowling- hit as many pins down as you can in each turn. Both children and adults will enjoy this game, reveling in their competitive natures as they continue to play. 
4. Other Lawn Games:
Other games to consider that are fun for both children and adults are:
Ring Toss

Ladder Toss

Lawn Darts

Bean bag race

Giant Tumble Tower

Toss Across (tic-tac-toe)

Badminton

Croquet
You can purchase these inexpensive lawn games and others from Amazon, Walmart, and sporting goods stores.
Conclusion
All in all, parties are fun to have and host and, with the right games up your sleeve, can be incredibly successful with very little planning. Choosing the perfect lawn game that fits in with the vibe or complements the theme of your party can be a game-changer for your guests. So, satisfy your family or close friends' competitive sides by adding a lawn game that won't ruin your manicured grass lawn at your next party. Let the games begin! 
Featured Image by rawpixel.com