The following post is from Jessica of Good Cheap Eats and Life as MOM: Add Seasonal Fruit to Your Salads
During my childhood, the word salad conjured few images: either crisp, white iceberg drizzled with Ranch dressing and studded with some cherry tomatoes or the classic 1980s Caesar, heavy on the dressing, Parmesan cheese, and crunchy croutons. I love both still.
It wasn't until I reached my twenties that I ever encountered fruit on a green salad. Previously, the fruit had been relegated to gelatin, fruit salads, and maybe the occasional misnomer, the Chinese Chicken Salad! On top of plain greens? Really?!
To say the least, it sounded weird.
Unusual for my mother's kitchen, definitely. Delicious? Yes, that, too.
Nowadays, salads at our house can wear a number of accessories. We still love Homemade Ranch and Caesar Salad, but green salads can look a lot different. And seasonal fruit makes one of the loveliest of toppings.
Adding seasonal fruit to your salads is a great way to enjoy the bounty of the season as well as include more fruits and vegetables into your diet.
If you haven't tried this amazing flavor combination, I encourage you to leave the Ranch on the shelf and try on something new. No matter the season: Winter, Spring, Summer, or Fall, seasonal fruit can make your salads amazing.
1. Start with a base of greens.
Regardless of the season, you should have easy access to some kind of green salad. You might have to be willing to try something new. Cabbage is often available in the winter months when nothing else is, and it can make a fabulous salad.
lettuces: romaine, butter, red leaf, green leaf
kale
spinach
sorrel
endive
cabbage: red, green, Napa
Our produce box blesses us with an abundance of weird greens during the winter months. At first, my kids balked at all the greens, but now they're asking when we're going to get more spinach!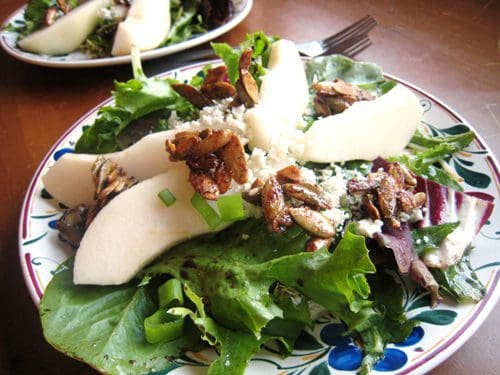 2. Choose your fruit.
The fruit you choose will dictate the other flavors that you add to your salad. And options are numerous, again, depending on the season.
Spring: apricots, strawberries, mango, oranges, pineapple
Summer: Asian pear, berries, melon, cherries, figs, grapes, nectarines, peaches, plums
Fall: pears, apples, cranberries, grapes, pomegranates
Winter: clementines, grapefruits, oranges, tangerines, kiwi, papaya
Year-round: dried fruits, avocado
If you're hesitant to try mixing sweet and savory, just add a little fruit as a side dish and combine flavors as you go until you find the pairings you love. My husband, who is an avowed hater of savory mixing with sweet, loves fruit on his salad. Go figure.
3. Add protein.
If your salad will serve as an appetizer, you can skip this step. However, if it's a meal salad, you will want to add some protein. There are so many options! Steak, chicken, turkey, ham, and bacon are nice meaty options. Tofu and black and white beans are tasty meatless options.
Either way, including these items in a meal salad is a great way to repurpose leftovers in a tasty and creative way.
Consider an ethnic food profile that helps you coordinate your fruits and proteins. For instance, black beans will go nicely with mangos and a Caribbean-style dressing. Turkey and dried cranberries are natural partners.
4. Include a few bites of cheese.
In contrast to my favorite Caesar salad that is bowled over by a massive quantity of Parmesan cheese, your fruit-kissed salad doesn't need a lot of fromage. Just a few bites of flavorful cheese serve as a tasty contrast to the juicy fruit and crisp greens.
There's a world of varieties and textures to choose from.
Crumbled: bleu, Gorgonzola, feta, goat
Cubed: cheddar, Monterey Jack, Gruyere, Emmenthaler
Shaved: Parmesan, Asiago, Romano
Shredded: cheddar, Monterey Jack, Parmesan, Asiago, Romano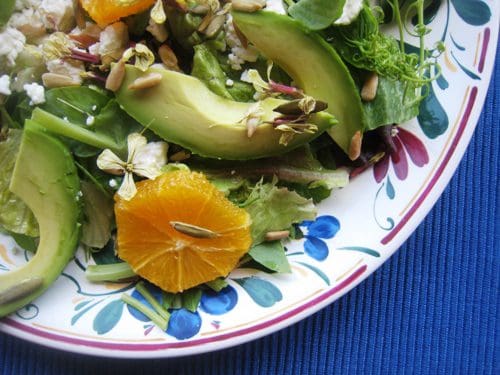 5. Sprinkle on some accents.
Nuts, edible flowers, seeds, onions, chopped vegetables, and other savory touches add visual appeal and extra contrast to the textures and flavors on your plate. Be sure to add a few.
6. Drizzle a little dressing.
Since fruit is packed with flavor and often dripping with juice, you might not need too much dressing. Tossing the greens with a simple vinaigrette, like this Tarragon Balsamic Dressing or this Herbed Vinaigrette, will do just the trick before you layer on the other toppings.
Wondering where to start?
Here are some fun combinations to place atop your next salad:
endive, gorgonzola, apple, walnuts
greens, apples, Gruyere, pecans
spring mix, oranges, feta, almonds
baby greens, grapefruit, bleu cheese
Adding fruit to your green salads opens a world of tastes and flavor combinations. Not only does it help you eat the rainbow, but it also allows you to make the most of seasonal produce.
What's your favorite salad combination?
A foodie at heart, Jessica Fisher has learned to reconcile a tight budget with her love for great food. As a busy mom of six voracious eaters, she regularly shares healthy, delicious, and budget-friendly recipes at Good Cheap Eats. She also writes at her parenting blog, Life as MOM. Her first cookbook, Not Your Mother's Make-Ahead and Freeze Cookbook, will be released in November 2012.