The following post is from Kristina of Toddler Approved: Chores for Kids: DIY Board Game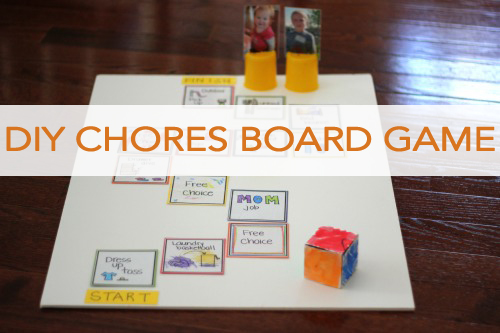 As I'm getting in gear for Fall, I have really been trying to get our house organized! I have several big projects I am working on, but I am also trying to get control of the daily things we need to be doing around the house- putting laundry away, unloading the dishwasher, etc. My son is almost 5 and my daughter is almost 2, so I've been getting them more involved in helping with day-to-day chores.
Since the daily chores that we try and accomplish get kind of boring for everyone (including me), I've experimented with a lot of different ways to make them more fun. A few months ago we created a family cleaning game called Four in a Row.
This week I am excited to share a new kid-made DIY board game that we created to help us get some of our daily jobs completed!
We mostly used materials we had around the house and laminated all of the cards to keep them from getting destroyed. We plan to use this game a lot. It was a hit, especially with my son.
Supplies:
6 different colors of cardstock
DIY game board pieces template (2 copies)
white paper
scissors or paper cutter
crayons or markers
double-sided tape
laminating sheets or contact paper (optional)
black Sharpie
old play-dough containers
photographs of your kids
knife
foam DIY game board (you could also use a box or large piece of paper)
painters tape
6 sided colored dice (or you can make your own as we did… we just covered a Rubix cube with colored paper)
Directions to Make Game Board:

Cut out game board pieces from the template.
Brainstorm daily jobs with your kids.
Have kids design game board pieces using markers and crayons. They need to write a chore on each piece.
Cut out square pieces of colored cardstock that are a little bigger than game board pieces.
Tape decorated game board pieces onto colored cardstock pieces using double-sided tape.
Make a start and finish card too.
Laminate the game board pieces and cut them out
Use painters tape (or something else that can easily be removed) and have kids design their board by putting their pieces wherever they want to create a path from the start to the finish.
Directions to Make Photo Game Pieces:
Laminate a photo of each child.
Using a knife, cut a slit in the top of each play-dough container (this is an adult-only job).
Slide a photo in each slit to finish the game piece.
These are pretty sturdy and easy to hold. My kids got a kick out of playing a game with their own pictures! My daughter loved her picture game piece so much that she actually said her name for the first time. It was a momentous event!
How to Play the Game:

Once your child sets up your board, you are ready to play! Roll the dice and move your photo game piece to the color that you rolled. Read the game board piece to discover what activity you have to do. Keep going until everyone has made it to the finish line! Some of the activities I included on our game board are listed below. I tried to use my creativity to come up with a fun way for us to complete each job… that way it didn't seem too mundane. I want my kids to realize that we can have fun doing all sorts of things- including chores!
Some of our jobs:
Laundry basketball- Dump a pile of clean clothes on the floor and set sorting baskets across the room. Launch the clean clothes into the appropriate pile like you're shooting hoops. Once clothes are sorted they can be lugged to rooms and folded there… or put aside to be folded later in the day.
Drawer dive- Open up a drawer and dive your head into it and look for clothes that don't fit anymore (or don't belong in that drawer). The trick is to keep all the other clothes in the drawer and not let them fall all over the ground (a challenge for my 5-year-old). We had a hysterical time trying on clothes during this activity because there were definitely some clothes that were too small in my son's drawers!
Grab 10- Take kids to a specific room in the house and have a contest to see who can pick up 10 things (and put them away) the fastest.
Bed Bounce- The kids got to bounce on their beds for five minutes, and then we worked together to make each bed.
Unload Silverware- No fancy name here, but my son got to put all of the silverware away while I unloaded the rest of the dishwasher.
Free choice- a child can choose any chore that they want to do that is on the game board. Since you may skip some of the favorite chores when you are rolling, this gives kids a chance to do the jobs that are their favorites. I included three free choice cards on our board.
Lego hunt- We have Legos everywhere in our house! For this activity, we grab a few pairs of binoculars and a basket or bag and we go from room to room hunting for Legos. Once we find them, we carry them back to their correct home.
Mom Job- This card means mom has a special job to do, which means kids get a special playtime!
This game is so entertaining that it could fill up your entire morning! We have felt so much more productive as we have started doing this activity. For some reason I am more motivated to do little jobs around the house when the game board tells me I need to do them… and the same goes for my kids!
Here are a few other great resources to use as you get organized for Fall and get your kids helping out around the house:
What is your child's favorite chore? What is your least favorite chore? How do you involve your kids in keeping your home organized and tidy? 
Featured Photo by Pixabay from Pexels
Kristina is a mom of 2 and a former Special Ed teacher for children with communication disabilities. She blogs at Toddler Approved as she looks for ways to make life a little more fun and creative with her kids while embedding learning into everything that she does. Kristina tweets as @ToddlerApproved and can be found on FB and Pinterest.