The following post is from Shaina of Food for My Family and Olmanson Photography:
I am historically bad at Christmas morning breakfast. I love the idea of spice-filled aromas from the oven wafting through our gift-opening, but we spend Christmas Eve with my in-laws and arrive home well after midnight. This means anything that requires prep the night before or even me waking up before dawn to get it into the oven doesn't fall under realistic. Most years I end up serving bowls of cereal or frying a few eggs quickly before heading to the day's family activities.
This year I'm planning ahead with a recipe that requires nothing but a few bowls and a hot oven. This coffee cake is easy to whip together, and it bakes in the time it takes for the kids to unwrap gifts and spend a few minutes enjoying them. Right when stomach growling starts to take precedence, you'll be pulling the cake from the oven and setting the breakfast table. Add a few peel-your-own clementines or halved grapefruits to the table, make a pot of coffee, and enjoy your Christmas morning with your family.
Don't have time to cook? Celebrate with these goodies from Emicakes.com.sg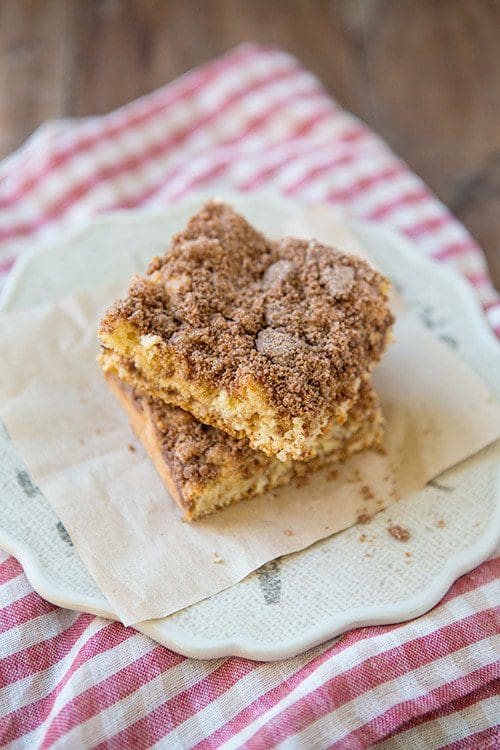 Ingredients:
2 cups all-purpose flour
1 cup granulated or palm sugar
1 teaspoon baking soda
1 teaspoon baking powder
1/2 teaspoon salt
1 teaspoon vanilla
8 tablespoons unsalted butter, softened
2 large eggs
1 cup sour cream or Greek-style yogurt
¼ cup whole milk
3/4 cup light brown sugar or palm sugar
1/2 cup all-purpose flour
1 teaspoon cinnamon
6 tablespoons unsalted butter, softened
Directions:
Heat oven to 350º F. Line a 9-inch-square baking pan with parchment.
Whisk together the flour, granulated sugar, baking soda, baking powder, and salt in a medium bowl. In a separate bowl, mix the butter, eggs, yogurt, and vanilla extract until combined. Add in the flour mix and stir until evenly mixed.
Slowly pour in the milk while stirring. Continue to stir until combined.
Pour the batter into the parchment-lined baking pan.
Mix the brown sugar, remaining flour, and cinnamon in a small bowl. Add the butter and mix until crumbly. Sprinkle over the top of the batter.
Bake for 30-35 minutes or until a toothpick inserted in the center comes out clean.
Related Projects:
Join us as we celebrate 101 Days of Christmas with new DIY projects, gift ideas, traditions, and more every day from now through Christmas!
Shaina Olmanson is the freelance writer, photographer, and home cook behind Food for My Family. Cooking daily with and for her four kids and husband, Ole, drives her desire to inspire other families to do the same. Shaina is also the author of Desserts in Jars and regularly contributes to various online sites and traditional print magazines.