When my sister tried one of these cookies yesterday, she exclaimed, "Mmm! Tastes like a snickerdoodle." Which I suppose is a good thing since they are, in fact, snickerdoodles!
With a cup of King Arthur Flour's melt-in-your-mouth cinnamon chips and a coating of cinnamon-sugar, these snickerdoodles (which I adapted from this King Arthur Flour recipe) offer delicious bursts of cinnamon in every bite.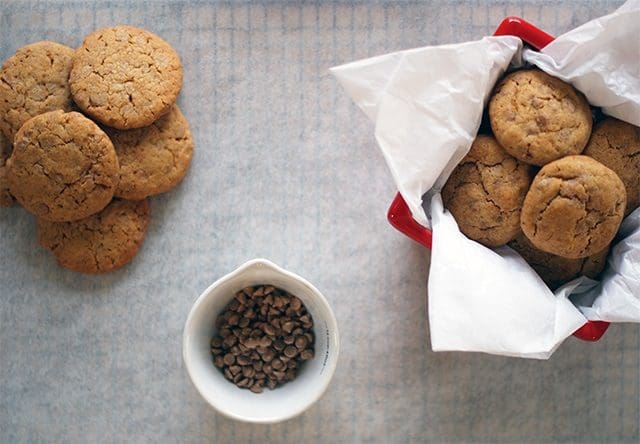 *The cookies on the left were flattened slightly before baking and are thinner and slightly crispy. The ones on the right are thicker and softer on the inside, but not chewy.
Ingredients:
Cookies:
Cinnamon-Sugar:
1/2 cup sugar
1 heaping teaspoon cinnamon
Directions:
Preheat oven to 400 degrees F.
In a large bowl, cream together butter and sugar. Add eggs one at a time and then the vanilla.
In a medium bowl, mix flour, baking powder and salt.
Slowly add flour mixture to wet mixture, mixing gently until the flour is just incorporated.
Fold in cinnamon chips.
In a small bowl, mix together sugar and cinnamon.
Use a melon baller to form cookie dough balls. Roll each one in the cinnamon-sugar before transfering to a cookie sheet or stone.
Note: For thinner, crispier cookies, flatten slightly with the bottom of a glass.
Bake for 9-11 minutes, until they begin to brown. Transfer to a cooling rack to cool.
Yield: 5 dozen cookies
Click here to add this recipe to your Plan to Eat account.
Recipes from the archives:
Join us as we celebrate 101 Days of Christmas with new DIY projects, gift ideas, traditions and more every day from now through Christmas!