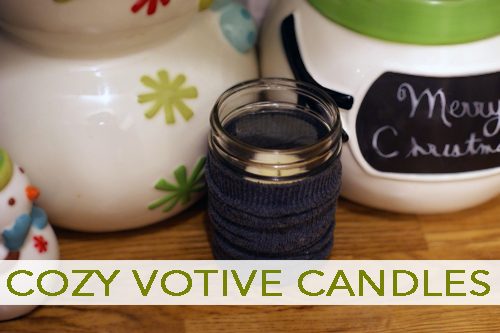 These cozy candles make the perfect addition to your holiday and winter decor, and they'd make great gifts as well.
Truth: Everything in me wants to suggest making these for teachers, but I have a feeling that teachers receive as many candles as they do mugs and ornaments, so a practical gift like an office supply gift card, chocolate or even just a hand-written note of thanks may be a better gift! Any teachers want to weigh in?
Although I'm partial to the combination of grey and cream lately, you could use red candles or socks for the holidays or choose other colors to match your decor.
Supplies:
small jars (I used 1/2 pint canning jars)
knit socks
votive candles
lighter
hot glue (optional)
Directions:
Cut a straight section from the knit sock. If using thick socks, cut it shorter than the jar itself so that the sock can lay flat on the jar; if using thinner socks, you may want to gather the fabric to give it some texture (like in the pictures above) in which case you should cut your sock a little longer than the height of the jar. Set aside.
Remove any stickers from the bottom of the candle and carefully hold them over the center of the jar. Use the lighter to melt the wax on the bottom of the candle so that it drips into the jar. Once you have a quarter-size spot of wax at the bottom of the jar, lower the votive in place and press down to adhere it to the bottom.
Slide the sock over the outside of the jar, folding the cut edge under if desired. Optional: Add hot glue around the top and bottom edge to hold the sock in place. That is all there is to making cozy votive candles.
Related Projects:
Join us as we celebrate 101 Days of Christmas with new DIY projects, gift ideas, traditions, and more every day from now through Christmas!