Wow, y'all had some creative and frugal ideas for organizing outdoor toys, and I wanted to highlight a few of those here:
1. Hanging milk crates.
I just recently got so tired of toys all over my backyard that I found three old milk crates and hung them on the fence. It cost about $6.00. One crate is for bats and balls, one for trucks, and one for kiddie pool toys. It has been working great! It's the same organization system that's in the house in their rooms…everything has its specific place. And the toys stay pretty nice because they are up off the ground when it rains. Before, they would get muddy and gross, and I'd have to spray down the toys far too often. Now my yard always looks nice, and only a few toys are out at a time. ~Mandy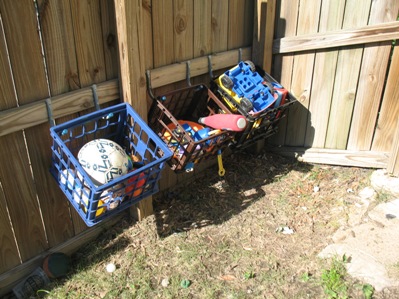 2. A rolling garbage bin.
We opted for an inexpensive, rolling garbage bin – purchased specifically for the purpose of storing toys. It holds a large number of balls and other outdoor toys. And although I prefer sand toys to stay in the sandbox (they fit underneath the cover), they often end up in our toy bin, too. For around $20, it fits our budget and our toys perfectly! ~RLR @ Mom's Magic

3. A large bucket/bin with holes in the bottom.
For our backyard toys (buckets, shovels, a few plastic bats and balls, jump ropes, etc), we got one of those large Rubbermaid buckets with the big rope handles, drilled holes in the bottom, and put everything in there. We slide the whole thing under the porch, and since everything in there is plastic, it doesn't matter if it gets wet when it rains. The water drains out the bottom, and the stuff dries quickly. We keep our toy amount limited to this bucket – if it starts to overflow, then it's time to get rid of some toys. ~Clara
4. A pop-up laundry basket.
So all of our sand toys/outside toys are in a pop-up net laundry bag. It is great because I can throw all the toys in it and shake them out, limiting the sand in my car. ~Keilah
5. Use several smaller containers rather than one large container.
My best advice is to try smaller containers to keep like toys together, just like many of us do inside! ~Mary B.
6. Build your own storage.
After I posted the question of the day, my husband used pressure-treated wood to build us a small lean-to of sorts for our outdoor toys. It has a large tray built out of pressure-treated wood with holes drilled in the bottom for holding the toys and a sloped tin metal roof to keep the rain out and the sun off of them when they're not in use.  ~Mandi @ Organizing Your Way
How do you store outdoor toys?
Featured Image by Arek Socha from Pixabay