The following post is from Janel of Life with Lucie and Ella.: Decorate for Fall with a DIY Twig Mirror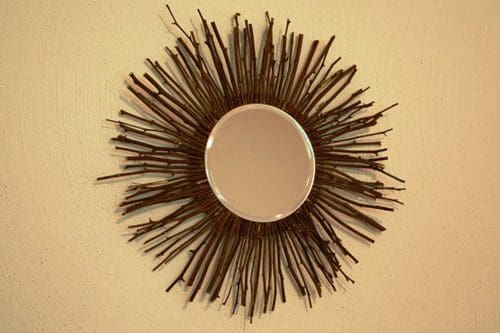 A couple of months ago, I stumbled across a twig mirror online and was really taken with it. I was not, however, taken with its price tag of $169. When I saw my husband pruning our hedges, I decided to save some of the twigs in hopes that I could make my own twig mirror. I just needed to find the right thing to use as the base for the mirror. It needed to be sturdy, readily available, and inexpensive. Finally, last week I spotted just what I needed in Walmart's garden section- a  cork mat for plants!
Although I was inspired by what I saw online, my finished product looks different but is still a great way to decorate for Fall. I chose twigs that varied in thickness and placed them in a "sunburst" alignment. Of course, feel free to experiment with the alignment on your own! Also, my version was made on a smaller scale and measures only about 12″ in diameter.
However, you could try making a larger twig mirror with a 12″ cork mat and a 10″ mirror. The finished diameter would depend on the length of the twigs you choose. But, when all is said and done, my version is still stylish and so much more affordable since I only spent $2 for the mirror and cork mat!
How to Make a Twig Mirror:
Supplies:
Twigs from your yard
Pruning Shears
6″ Circle Brown Cork Mat for plants (from Walmart garden section)
5″ Circle Mirror Candle Holder (from Dollar Tree)
High-Temp Glue Gun & Gluesticks
Sawtooth Picture Hanger
Instructions:
Collect a large number of twigs from your yard. If they have any thorns, cut those off. Give the sticks a good rinse to get rid of any dirt or bugs, and allow them to dry. Use the pruning shears to cut them into lengths that are about 3 inches long. (My twigs were approximately 1/8-inch wide, and I needed about 130 pieces.)
Remove the labels from the cork mat and mirror. If your mirror has padded feet on it, remove those as well. Flip the cork mat over so the cork layer is face down and the hard dark surface is face up. This side of the mat is dark brown, so it matches the twigs nicely. Working quickly, so the glue doesn't cool, hot glue the mirror in the center of the cork mat. Press firmly and allow to cool.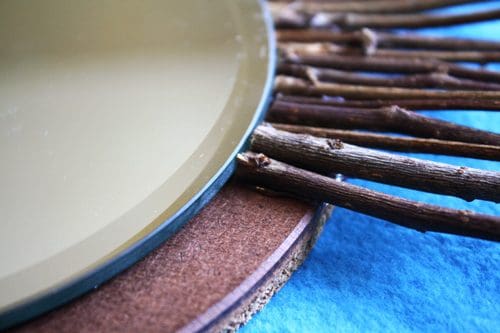 Apply about a 1/2-inch line of hot glue to the backside of a stick near the end, and then press it down on top of the exposed portion of the mat. Make sure to place the twig right up against the mirror. Repeat until the mirror is surrounded by twigs.
Sometimes hot glue leaves little strings of glue. Remove any strings of glue with tweezers, or try brushing them off with an old toothbrush.
Flip your mirror over, and use hot glue to affix the sawtooth picture hanger. Hang & enjoy!
Painted Option: When my girls saw my finished mirror, they exclaimed, "It looks like a sun!" Then they asked me to paint it yellow. I decided to keep mine unpainted, but if you want a colored mirror, you could try spray painting the back of the cork mat and the twigs before you assemble the mirror.
Have you ever seen something online and made your own version for less money?
Janel is a stay-at-home mom of two and a law school wife. Raised in a budget-conscious and do-it-yourself-minded family, she loves seeing something in a store or magazine and making her own version at home for less money. Janel blogs about motherhood, crafts, and recipes at Life with Lucie and Ella.