The following post is from Myra of My Blessed Life: Decorating for Fall with Burlap!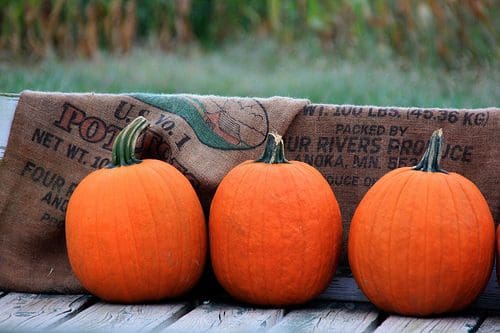 Autumn is my favorite time of year!  After the unbearably hot summers of the South, I crave cooler weather, pumpkin spice lattes (the only "coffee" I drink), cozy sweaters, and shorter days.  By the end of August, I'm ready to jump right into Fall decorating.
Besides candles, leaves, berries, sticks, and pumpkins, I love to decorate with burlap. Some people think I'm a little crazy when I tell them how awesome burlap is, but I'm going to show you exactly what I mean.
Burlap is made from the jute plant that originated in India.  When woven together, jute is incredibly resilient and resistant to tearing.  Burlap sacks were used in the trading industry for centuries.  As a child, I remember my grandfather using burlap sacks on his farm…I can still smell those "feed" sacks.
Burlap's wonderful qualities make it delightful for decorating:
Burlap is inexpensive.
It can be found at craft stores (i.e. Hobby Lobby, Michaels) for about $3/yard.  I've even found it on sale for 1/2 the price!!  Burlap comes about 60″ wide, so you get a lot of bang for your buck.  I've also seen burlap sacks at antique stores, which would be perfect for an authentic vintage look.
Burlap has a fabulous texture.
Burlap's wonderful, fibrous texture balances the smooth textures of candles, pumpkins, and gourds.  I recently washed three yards of burlap, and it looked like I had sheared a sheep in my house by the time it was dry. Ha!  Some people complain that burlap smells, which it does, but it smells rustic, which is absolutely perfect for ushering in Autumn.
source: my blessed life
Burlap is SO versatile!
I love that I can use burlap for just about anything I can imagine.  It can be ruffled, pleated, draped, framed, or painted. I've seen burlap sewn and unsewn.  There are no "rules" for decorating with burlap…which is just my kind of thing!
Wreaths, candle wraps, table runners, placemats, pillows, and much more can be made with burlap. Use burlap for decorating your home this Fall!
Here are some ideas to get you started:
Do you use burlap to decorate your home for Fall?
| | |
| --- | --- |
| | Myra has a B.A. in Interior Design, is an allied member of the American Society of Interior Designers, and is currently self-employed. When she's not spending time with her little man, thrifting, creating, shopping, or working on a project, Myra enjoys date nights with her husband and blogging at My Blessed Life. |
Featured Image by Anh Nhi Đỗ Lê from Pixabay