My friend Jenny recently posted about these drop cookies on Facebook, and I asked her for the recipe. It's just a basic shortbread cookie she'd found in a holiday baking magazine several years ago, but different flavored extracts make them extra tasty.
With just 4 ingredients, these drop cookies are easy to whip up! I made one batch with almond extract, one with peppermint, and one with vanilla, and the almond version may just be my new favorite Christmas cookie.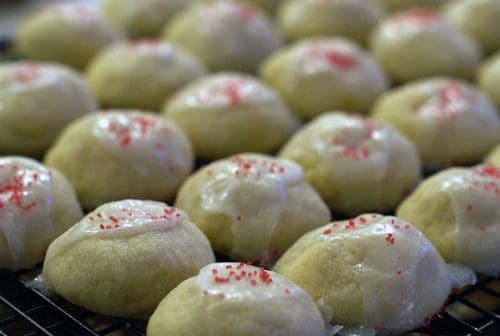 Ingredients:
Cookies:
1 cup salted butter
1/2 cup sugar
1/2 teaspoon flavored extract
2 cups all-purpose flour
Icing:
1 cup powdered sugar
2 tablespoons butter, softened
1-2 tablespoons milk
8-10 drops of green food coloring (optional)
Directions:
Heat oven to 350 degrees. In a medium bowl, beat 1 cup butter, sugar, and almond extract with an electric mixer on medium speed until smooth. Slowly mix in flour.
Shape dough into 1-inch balls and place on cookie sheet. Bake 13-15 minutes. Cookies will still be white but firm to the touch. Cool for 1 minute on the pan and then transfer to a cooling rack.
In a small bowl, beat powdered sugar, butter, and milk on medium speed until spreadable. Add food coloring. Transfer to a plastic baggie and snip off the corner. Squeeze icing onto the center of each cookie, letting it melt and run down the cookie. Decorate with sprinkles or crushed candies if desired. Let cool completely.
Great cookies for a cookie exchange.
Related Projects:
Join us as we celebrate 101 Days of Christmas with new DIY projects, gift ideas, traditions, and more every day from now through Christmas!